Back to homepage
8 Tips for Choosing a Great Logo Font For Your Brand
Posted on May 26, 2018 by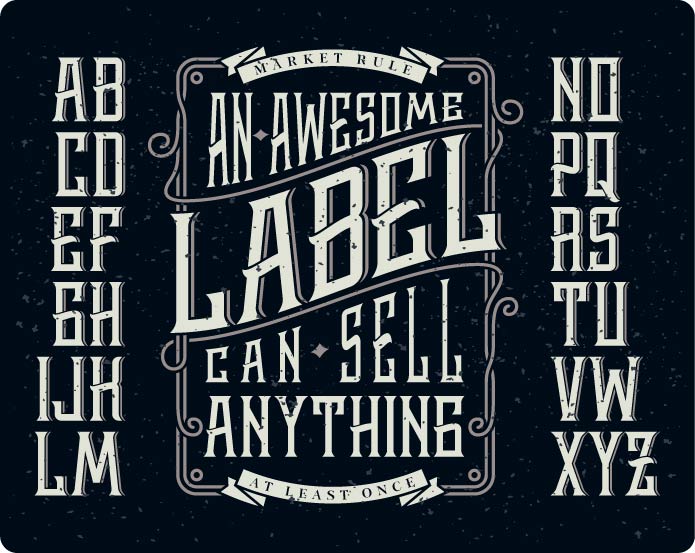 In North America, the most successful brands include Google, Apple, Microsoft, Amazon, and Facebook. While this might not be breaking news, all of these companies have one crucial thing in common: Their brand is on point.
Specifically, all of these brands have a really engaging and unique logo font. Choosing a font can make or break the entire design of your brand. Therefore, it's imperative that you have your font figured out for your business.
Here are eight tips on how the experts would go about deciding a logo font that your target audience can't ignore.
1. What is Your Brand Identity?
Whether you operate a brick-and-mortar business or an online shop, you need to know what your brand stands for. Is it fun, professional, energetic, calming, or something completely different?
Know your business, as well as its products, and see whether a certain font relates to these factors. With your brand, you're trying to convey a message; your font should simply aid in delivering this message in the most effective way.
Do you know your company good enough to design your logo?
2. Know Your Audience
The lifeblood of your business, your primary target audience is everything. For your logo and logo font, you'll want to appeal to this specific crowd of people. Without a font and logo that engages these loyal customers, your business will start to plummet.
What are the demographics of your primary target audience? How old are they, which gender, what nationality, what are their hobbies, goals, occupations? Also, where will they see your logo font: Websites, banner ads, merchandise, physical ads?
Having a good grasp on who your brand resonates with will boost your brand past previous heights.
3. Know the Different Font-Emotion Pairings
When it comes to fonts, you'll want to comprehend the basics. The difference between a serif and a sans serif could be the difference in a profitable business.
Here is a quick rundown of what each font type creates in terms of emotion:
Serifs: Fonts like Times New Roman, Georgia Italics, and Baskerville evokes a traditional, comfortable, and reliable feel in your readers.
Sans serifs: This is Helvetica Bold, Franklin Gothic, and Calibri, which translates to a clean, modern, stable message when used in your brand logo.
Scripts: These are your fancy typefaces, such as Bickham Script or Lavanderia, and all relate to the feelings of elegance and creativity.
Modern: Century Gothic, Didot Italic, and ITC Avant Garde Extra Light are a group of fonts that showcase progressive, stylish, chic businesses and trends.
Display: Lastly, fonts like Spaceage Round, Valencia, Cooper, and Giddyup all create this unique, one-of-a-kind feel for your brand logo.
Once you have tip #1 figured out – what your brand identity is – you can start thinking about the emotions you want your audience to feel.
4. Keep it Simple and Classic
By far the biggest tip in this list, don't go too overboard.
Using too many fonts or colors (covered later) creates an artistic mess of your logo. Also, trending fonts could potentially be just that – a trend. You'll want to avoid the flashy and current, opting instead for something that can remain timeless.
A clean, simple font is always preferred. Then you can use it in various mediums and be attractive no matter if the font is big, small, on a T-shirt or a billboard or a computer screen.
5. Research Your Competition
You should already be aware of what other companies in your industry are doing. As for logo fonts, it's prudent to research which ones they're using in their content and branding.
Now, this is not to say you should copy them. This is an incredibly lazy way of finding your logo font. Rather, learn what styles work – serif or no – and combine that with your brand's personal touch.
Of course, only glean data on fonts from successful businesses in your niche.
6. Choose Solid Colors (But Not Too Much Color)
The color of your font is another huge emotion fueler. With the exact right hues and shades, you'll have your audience feeling a certain way. It's your job to make sure that feeling is what you want to sell your message.
If your brand is more calm and collected, go with grey like Apple. If you want to be youthful and exciting, red like YouTube, Coca-Cola, and Virgin is your best bet. Green promotes healthy, purple evokes creativity, and yellow provides a warm, optimistic sentiment.
The key is to not use too much color. Unless you're Google or you have a brand name that involves a rainbow, stick to one color, maybe two. This will help with brand recognition anyways. One color, one clear font, one super slick brand logo.
7. Use Fonts Combined With Non-Word Logos
Your typeface won't be the only facet used in your advertisements and merch.
Implementing your logo font into your non-word logo creates a full-bodied brand logo. Companies like McDonald's, Adidas, and MasterCard use their fonts in conjunction with their main graphics (the golden arches, the three-petal flower, the red and yellow circles).
As time goes on, you can use this overall logo as a template for future versions. Going minimalistic, such as eliminating the words entirely or putting the graphic within the font, is a nice way to stay relevant.
Get creative with what's known as typographic logos; you'll have a special brand identity, one that everyone can get behind.
8. Incorporate Your Products Into Your Logo Font
Sometimes, you can utilize your products in the design of your logo.
Say, for instance, your business sells baseball equipment or merchandise. You can put baseball stitching in the font, paired with an elegant or sleek typeface.
Or, your health supplement made from plants could have a brand font that includes leaves in the serifs.
The possibilities are endless, so don't be afraid to play around. It's your company; you want to give your logo the best font for your brand message.
Use These Tips to Choose the Perfect Logo Font
Hopefully, through these eight strategies, you have a clearer picture of what your brand's message is all about. This will directly relate to finding the ideal font logo to fully entice your customers. Do your due diligence, get your best logo font, and you'll be on your way to an enhanced logo, more profits, and better business overall.
If you want help in creating your business' brand logo masterpiece, learn how to make a free logo with our Online Logo Maker.
---
No Comments