Back to homepage
What Are The Different Types Of Logos?
Posted on July 31, 2017 by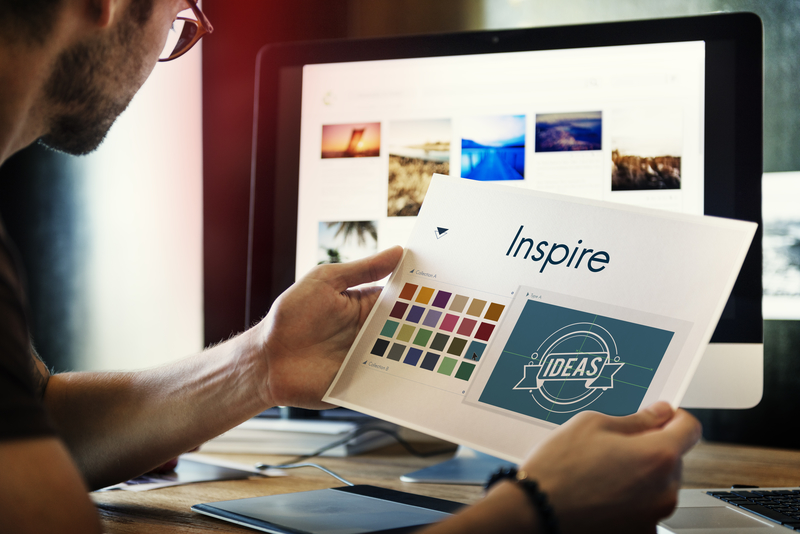 You know that an eye-catching logo is a key component of a successful business, but did you also know that there are different types of logos to choose from?
Read on to learn more about the different types of logos out there. We'll also share some tips to help you decide which logo type will work best for your business!
Types Of Logos
Lettermarks
Lettermarks — also known as monogram logos — create a logo centered around a company's initials. The logos for General Electric, CNN, and Hewlett-Packard are good examples of this.
Lettermarks are great for companies that have longer names and need a simple, streamlined logo.
One of the most important things to keep in mind when designing a lettermark is the type of font you will use.
When you use a lettermark for your company's logo, it's important that you choose or create from scratch a font that fits your company's personality. A geometric font works well for companies with a more elegant style, while serif fonts are best for businesses with a more traditional message.
You'll also want to make sure that whatever font you choose is legible so that people know which letters are being used. Your brand will definitely suffer if people can't read your logo!
If you have a new business that you're designing a logo for, it's also helpful to print the company's full name below the lettermark. This helps with brand recognition and lets people know immediately what the initials in the logo stand for.
Wordmarks
Wordmarks — also known as logotypes — are very similar to lettermarks. Instead of using letters, though, a wordmark is a font-based logo that uses the business's full name. Major businesses that use wordmarks for their logos include Google, Facebook, and Visa.
Typography is important for wordmark logos, just like it is for lettermarks. Pick a font that reflects your business's products or services and make sure that it is legible.
Other things you'll have to keep in mind for both lettermark and wordmark logos are color, use of capital and lowercase letters, and kerning (the amount of space between letters).
A wordmark is one of the best types of logos for new businesses that need to get their name out there. However, they work best for companies that have a fairly short name. If your business's name is too long, a wordmark might not be ideal since a long name will often make the logo design look cluttered.
Wordmarks also work well for businesses with distinct names that are easy to remember. Again, Google is a great example of this.
Pictorial Marks
Unlike the types of logos discussed above, which focus on words, pictorial marks — also known as logo symbols or brand marks — are icon-based. Some common pictorial marks include the Twitter bird and the Target bullseye.
This type of logo can be tricky for new companies since they don't initially have strong brand recognition — there's a solution for this problem further down, though!
When you use a pictorial mark for your business's logo, the most important decision you have to make is, of course, which image you're going to use. There are a few questions you need to ask when making your choice.
Do you want the image to relate to your company's name? Do you want it to say something about your product? Should it evoke a specific emotion?
A pictorial logo doesn't have to be a specific image image, either. Lots of company utilize abstract marks in their logos — for example, Nike uses the swoosh image and the Pepsi has its split circle logo.
Abstract marks are great because they give you freedom to design a logo that represents your business without any cultural implications attached to a specific image.
Whether you choose a specific image or an abstract one for your pictorial mark, you'll want to make sure that it's simple enough for people to remember and recreate. A complicated image won't stick in people's minds easily, and it will also be difficult to print on your merchandise and business cards.
Pictorial marks are great for companies that want to take their brand worldwide. This is especially true if your business's name is difficult to translate. However, they're not ideal if you think your business model might change later on.
Mascots
A mascot is a character that represents your company, like the Kool-Aid Man or Tony the Tiger. When properly utilized, the character will become synonymous with your brand.
Mascots are an especially useful logo type for brands that want to appeal to families and children with their product or service. This is why so many brands that sell food or toys incorporate mascots into their logo design. Mascots increase familiarity, encourage customer interaction, and are overall excellent marketing tools.
If you're thinking about the type of mascot you want to use for your business, remember that they can be difficult to transfer across platforms. This is especially true if you're planning on using a highly detailed illustration of your mascot.
As with other logo types, it's best to keep your mascot illustration as simple as possible. If it's too complex, it will be hard to transfer to small things like business cards.
Combination Marks
As the name suggests, combination marks combine elements of multiple types of logos. They usually combine a pictorial mark or mascot with either a wordmark or lettermark to create a unique logo.
Adidas, for example, uses both a pictorial mark (the flower) and a wordmark (the company name) in its logo.
Combination marks are great for new businesses that don't yet have a lot of brand recognition.
When you put an image and your name together you can set yourself apart from your competition, establish your brand, and make sure people know your business's name right away.
This type of logo is also nice because it gives you some flexibility with your branding. Once you gain more recognition, you can drop your business's name from the logo and rely solely on the image, if you want. You can also use the image by itself in certain cases and the full combination mark in others.
Combination marks are also one of the most popular types of logos because they're easier to trademark than logos that are just based around an image.
Emblems
Emblem logos consist of a font inside of a symbol like a badge or a crest.
Starbucks and Harley-Davidson are two major brands that utilize emblem logos. Many schools and government agencies also rely on them because they have a classic style and are usually easy to recognize.
When designing an emblem, make sure that it is fairly simple so that it can be recreated across different platforms. An overly complicated logo will be difficult to embroider on clothing or print on a small business card.
Emblems are hard to get right because it's difficult to split them up or downsize them so they can be used on a variety of products. Because of this, they are used less frequently than other types of logos.
However, just because they're rare, that doesn't mean you shouldn't use them. When done well, emblem logos can really make a statement and set your company apart from your competition.
Other Things To Consider
You now know what the different types of logos are, but how do you decide which type is best for your business? Remember, the logo is one of the most important aspects of your business — especially if you're a new company that doesn't have a lot of money to spend on advertising.
Personal preference should be considered before pulling the trigger on a type of logo, but you should also think beyond just what you like. When you're choosing between the most popular types of logos, there are a few things you should keep in mind.
Be strategic. Ask yourself the following questions when deciding on the type of logo you want to use to represent your business:
Is it different from my competitors?
Is it simple and easy to replicate and recognize?
How will it look on my company's products?
Can I easily implement it across different surfaces (T-shirts, brochures, business cards, mugs, etc.)
Does it match my company's core values and message?
How will it tie my brand together?
Is this the image I want my company to have for a long time?
What emotional response will people have to it?
Start Designing Your Logo Today
Now that you know a bit more about the different types of logos out there, it's time to make a decision and create your own!
If you're feeling lost or unsure of your design skills, don't worry. There are tons of tools out there that can help you create the best logo for your company.
Did you know that we have a free online logo maker tool? Give it a try today!
If you're still having trouble coming up with a good logo, check out our blog for some great design tips. We can't wait to see what you come up with!
---
No Comments