Back to homepage
A Guide To Choosing A Logo For Your Business
Posted on July 24, 2017 by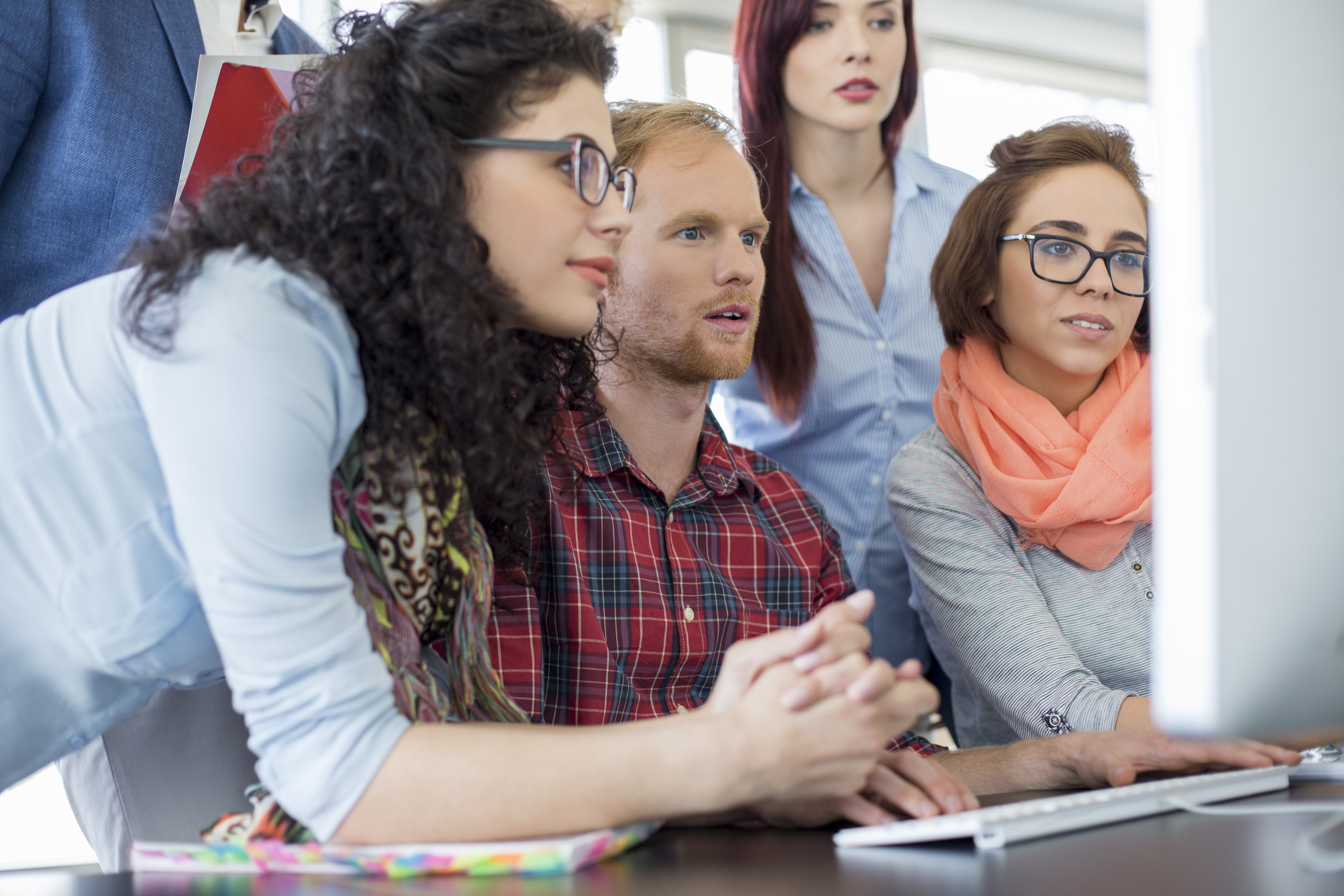 The Golden Arches. The Nike Swoosh. The Disney "D." 
Nothing grabs your customer's attention like a good logo. Not to mention how much a logo increases brand recognition.
It's not just marketing jargon. Children can recognize logos before they can even read.
When it comes to your own business, you can't ignore how effective logos are. You need a quality logo that is cleverly made and instantly recognizable.
But choosing a logo can be an overwhelming task.
Identifying a timeless logo is one thing, but creating one from out of thin air is quite another. Especially if you want to avoid the expense of hiring a graphic designer.
In this article, we'll look at the best tips to keep in mind while choosing a logo and maximizing brand recognition.
Your guide to choosing a logo for your company
What does your brand stand for? 
A logo speaks volumes. You're going to need to make sure it says the right thing.
What values does your company want to present to the world? 
Strength? Creativity? Whimsy?
When you're choosing a logo, you want to make sure that you find a design that strengthens that message and stays on brand. The worst thing you can do is choose a logo that undermines your company's values.
Nike's Swoosh is a great example of a logo that works for the company's values.
Nike is an athletic company, and its logo has a feel of movement, sleekness, and speed. What else would an athletic shoe company want to communicate?
But for a moment, let's imagine that in an alternate universe, Nike's logo was switched with Burger King's. 
Would a colorful cartoon burger communicate the kind of message an athletic company would want? Of course not.
This is an extreme example, but many companies make similarly off-brand mistakes.
Before you even start brainstorming about a logo, identify what ideals your business wants to associate itself with.
Types of logos
There are many different logotypes. Before you get to choosing a logo, narrow down what sort of design you want to use.
Most logos can be broken down into three types.
Typographic
In a typographic logo, the company name is stylized to make the logo. Some examples of famous typographic logos are Coca-Cola, Netflix, and Nintendo.
Typographic logos are great because they are typically easy to design. They also leave no confusion as to the company's name.
Illustrative
Illustrative logos utilize drawings that usually communicate the company's product.
For instance, Red Lobster, Olive Garden's vines, or Chuck E. Cheese's cheery portrait (even if the new Chuck looks creepy. Branding, people).
Abstract
Unlike illustrative logos, which are often quite detailed, abstract logos are very minimal. Many utilize simple shapes and only one or two colors.
Abstract logos are generally standalone icons that represent the company. The strongest of them can communicate the company's identity without the need for text.
For example, the Target bullseye, the Pepsi swirl, the Starbucks siren, or the oft-mentioned Nike swoosh.
The most recognizable logos tend to be abstract. But creating a simple logo that is strong enough to be recognizable is challenging.
Many logos are a blend of two of these types.
For instance, Wal-Mart's star logo, which accompanies their typographic logo. Another great blended logo is the World Wildlife Fund, which uses the strong simplicity of abstract logos to illustrate a panda bear.
Consider colors
In nature, color is its own language.
Peacocks use their colorful plumage to attract a mate. Many snakes use colorful markings to warn other animals that they are venomous.
It's just as vital in marketing.
Color is one of the most important things to consider when choosing a logo design. 
And not just for aesthetics. Psychology has shown us that different colors evoke different feelings.
When you're thinking about brand's values, choose colors that will say the same thing.
Red communicates vibrancy, strength, and urgency. This makes it perfect for health companies and gyms. 
Blue evokes a feeling of trust and familiarity. Ever wonder why almost every social media uses blue in their logo?
If you want to instill a sense of joy in your customers, think yellow. You'll notice that yellow logos are popular in fast-food and retail. This is because these companies want to be associated with happiness.
Green is often associated with growth and wellness. This is the go-to color for yoga studios, financial firms, and health food stores.
For companies wishing to appear strong and authoritative, nothing speaks louder than black. It's no-nonsense and sends a clear message.
Maybe your company likes to have a little bit more fun. You might want to consider an orange logo, as it evokes playfulness and youth.
But don't limit yourself to only one color. Combinations can speak just as loudly.
For example, look at all the All-American companies using three colors (two guesses as to which three). This is intentional.
Mix and match colors to align with the message you want to send the world.
Go subliminal
Everyone loves a clever logo. 
To stand above the pack, consider implementing some hidden messages.
The most famous example of subliminal the FedEx logo. Hidden in the negative space between the E and X is an arrow.
It's very subtle—you may have never noticed it before. But this hidden arrow does a great job communicating speed and progress, even without realizing its there.
Amazon's logo is another great logo with a subliminal message.
The orange line beneath the company name evokes a friendly smile, right? But take another look.  
You'll notice that the line goes from A to Z. Clearly, this is to communicate that their inventory is just as diverse. 
So when choosing a logo, don't be afraid to hide some hidden meanings in there. 
Don't be afraid to go negative (space)
When designing anything—logo, website, whatever—it can be tempting to use as much of the available space as possible.
Typically, this is how you get bad design.
You might feel restricted if you focus on creating a logo as iconic as the Nike swoosh out of a single solid object.
But before you panic, remember that you can make empty space work for you as well.
Many logos (like FedEx) make clever use of negative space to create a sophisticated logo.
Take another look at the WWF panda. Notice that the most recent versions only use black.
The rest of the logo is empty space. Yet your brain fills in the outlines automatically.
Another logo that makes great use of negative space is the USA Network. If you look closely, you'll notice that there is no S in the logo. 
Rather, the U and A shapes include portions of the S's negative space. This makes the S plainly visible despite not actually existing. 
Similarly, the Girl Scouts logo features the profile of three girls, despite using only a single color. 
Negative space opens up a whole slew of possibilities for logos. Try it out! 
Size matters
Remember that despite whatever size you make your initial logo design, it will be displayed in tons of different sizes.
From billboards to business cards, your logo is going to have to be recognizable in any size.
Recently, Instagram made waves when they rolled out a new logo.
The original logo was an intricate illustration that evoked the charm of the original Polaroid cameras. The new logo was criticized or being crude in comparison.
Despite the original logo's well-loved reputation, it had a big problem.
Because it was so detailed, it didn't look great when it was scaled down to the size of an app icon on a smartphone. 
And considering that Instagram is a mobile app, that's no bueno. 
The new logo may seem overly simplistic in comparison, but it is far more scalable than the original.
Keep scalability in mind when choosing a logo. Zoom out on your design to see how it looks 
Zoom out on your design to see how it looks at a small size. Do details get lost? Does it get cluttered?
If so, simplify the design. You'll be much happier with your letterhead.
Versatility is key
You're likely designing your new logo on a computer screen. But that's not the only place it will be seen.
Your logo will be printed in a plethora of mediums. Your company will put it on everything from building signs to shirts to pens.
Colorful, intricate details look great on screen, but if you're trying to get embroidered work shirts, it's going to lose clarity.
Simple is better.
No matter how great it looks on a computer screen, you have to keep the design's other uses in mind.
Spare no expense 
Choosing a logo is not something to enter into lightly. This is your company's identity, after all. 
Not to mention that ditching a bad logo is expensive.
Choosing a logo is going to be costly.
And not necessarily financially. Even if you design a new logo yourself, you need to spend time on it. 
It may seem expensive, but you can't afford not to have a great logo.
Get designing!
Choosing a logo is important, but it doesn't have to be a headache. 
Try out our free logo maker and get started choosing a logo that will make your company stand out!
---
No Comments