Back to homepage
How to Follow the Logo Design Process That the Pros Use
Posted on October 06, 2018 by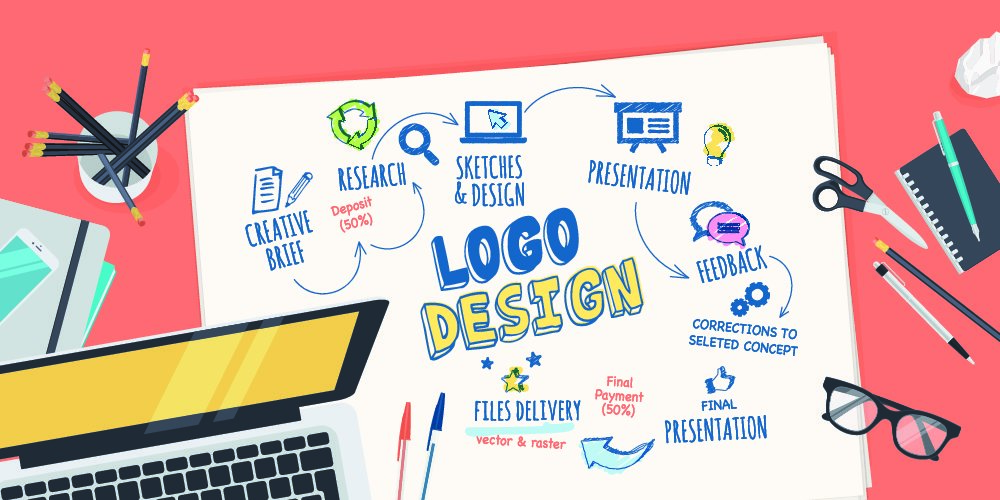 Ever stopped to marvel at distinct company logos everyone can remember? Almost everyone can, in the blink of an eye, identify the logos for Nike, McDonald's, Starbucks, and Apple.
Speaking of Apple, did you know its market dominance with smartphones is at 12.1% globally? A big reason behind this isn't because of the iPhone's capabilities but of brand recognition. People know the logo, they trust the brand and hence buy their products.
As a small business, this is a good example to follow. That said, you need to have a good grasp of the logo design process companies use since it helps people understand your brand.
Experts don't make logos on a whim.
There are intricate steps that most logo design professionals follow. Not sure what these steps are? Read on to learn every step and what you can do to make the best logo possible:
1. Discover the Client
One of the first steps to create a logo is for the logo maker to have a long conversation with their client. This meeting helps them learn a lot more about your company's culture as well as your values and your means of doing business. This allows them to show off that message when designing your company's logo.
After all, aspiring for a great logo means expressing your company's values and reflects the ideals you want to show people. You can compare this to an employee with the sole purpose of representing your company in its best possible light while maintaining its distinctive features. You can't give a good representation without making the wrong assumptions if you aren't asking for professional help.
Completing this step ensures that the designer creates a logo that you and everyone in your company can relate with. It's important that they ask the personality you want your brand to project and the kind of customers you have.
2. Discover the Industry
After getting to know your company, the designer then attempts to know your company's audience and your competition. Knowing the former allows them to have the understanding of the specific kind of logo style you need to appeal to them. For example, working in a market that caters to teenagers needs something mainstream and catchy.
That's the reason designers will ask for thorough answers when it comes to the customers that you cater to. The more they know about it, the easier it is for them to give the logo your audience can appreciate and get behind with.
Knowing your competition is a more important part of the process. They need to know if there are other logos out there that look similar to something they might design. Doing a logo identical to your competitors' is a big business blunder, so it's important that they design one that sets you apart from the key competitors that need your consideration.
3. Discover Logo Usage
This step in the logo designing process is about the designer knowing how and where the logo gets usage. Logo application refers to the different possible uses of your company's logo. It's important since it allows the designer to set what can and what cannot happen in terms of the logo's design perspective.
Web-based companies, for example, can let designers use the full spectrum of the RGB for the logo. After all, the digital devices that view it won't have problems with the color. It helps the logo stand out but it can become horrible when printed as physical copies.
With this, you need to consult your designer and tell them the medium you'll use for the logo. This ensures that they only use the ideas your company can execute without having to spend more.
4. Lots of Sketching
Some design schools urge their students to formulate around 100 ideas before deciding the right pick amongst the bunch. It's a practice that ensures you have a lot of choices. It allows your designer to separate the good ideas you have from the bad ones.
It's a simple truth but if you want your logo to have the identity it deserves, your designer needs to sketch lots of logo ideas while brainstorming. Once they do, they pick from a handful of decent designs to present to you. It might sound difficult, but the process isn't that long since it can take less than a minute to sketch each depending on the complexity of the logo.
5. Design Drafts
After sketching, your designer will now pick the top 5-7 of their ideas and create drafts of its designs. They aren't necessarily the nicest-looking designs but they all have the capability to make you stand out in the industry. They will often present the black and white versions of their designs, keeping them focused on the ideas without the need to gloss over the tiny details.
You need to give them the feedback for the rough ideas. It helps them know which ones are worth refining.
6. Refining Logos
This logo creation process step is the longest. The reason is the fact that it needs lots of back and forth when it comes to the necessary improvements and updates to the drafts they present to you. There are times when you pick one idea from their drafts but it's often ideal to pick at least three and see where they end up once they get refined.
This is the part where they add the colors and details. It's up to you if you wish to add, change, or throw away the ideas that don't appeal to you. Once the final logo gets chosen, you can now help in developing its identity and use it for your company's sake.
Learn the Logo Design Process Today!
With branding firms asking for at least $1,000-$50,000 to help develop your brand identity, you need to know the logo design process to ensure you get what you pay for. Of course, there are some cheap ones out there but you don't want to pay those since they don't give you the best results. It becomes worse if you ask people to do it for free.
It all comes to how much you're willing to spend. In any case, you often get what you pay for.
Do you need answers for your logo-making questions? Contact us today and we're more than happy to assist you.
---
No Comments