Back to homepage
Why Logo Fonts Are So Important To Your Design
Posted on August 07, 2017 by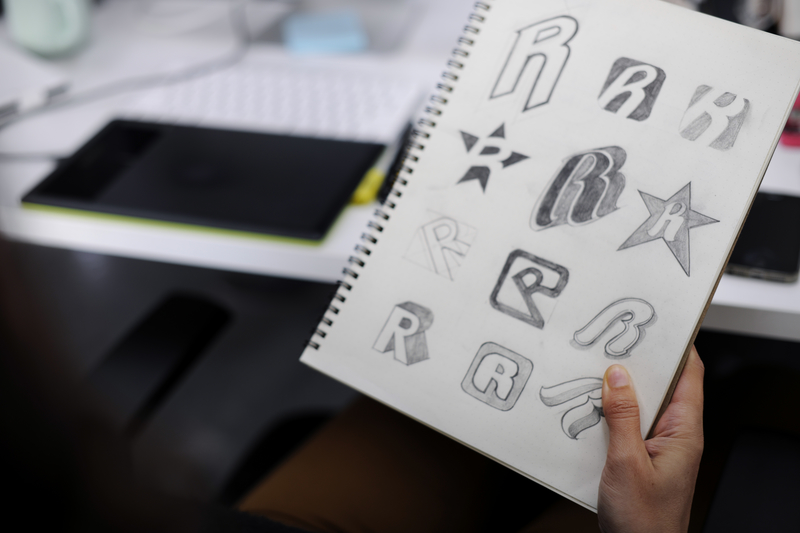 Creating a logo is one of the most important things you will do in the early stages of developing your business.
Getting it right from the start is important, too; in doing so, you can avoid costly and confusing redesigns in the future.
What exactly makes a great logo, though? Is it strictly design, or is there more to it?
Turns out, a great logo is created with looking beyond just the design — a winning logo incorporates logo fonts that send the right message.
What Are Logo Fonts?
When it comes to typography, there are a wide variety of terms that can get confusing! To start, it's important to have a full understanding of what logo fonts actually are.
Fonts are composed of multiple typefaces. Think of a font as a family, and a typeface is an individual member of that family.
When picking logo fonts, it's important to consider each specific typeface that falls within it.
A logo font simply means the font you are picking to be used in your logo. Considering your logo may be the first thing a potential client sees when it comes to your business, it's important to pick one that sends the right message.
Here are 10 ways fonts can affect your logo:
1. Memorability
If you want a logo that will remain in the minds of those who see it, you need to select a memorable logo font.
Choosing a memorable font goes deeper than just selecting one that's big, bold and in your face.
You know your target audience — do you know what will make the most impact with them? By choosing logo fonts that will hit home with your audience, they will be more likely to have a sense of trust with your business. When people feel like they are being directly spoken to, you get positive results.
With a logo that incorporates the appropriate font, your audience will be sure to remember your business in the years to come.
2. Attractiveness
Logo fonts can increase the attractiveness of your overall logo.
Maybe you want something elegant; if so, you would definitely choose something that resembles cursive, rather than a serif font.
If you're going for a classic feel, then serif fonts would be appropriate.
Knowing the overall goal of your logo, and the message you wish to convey with it will set you up for success when designing it. Be sure to pick a font that will increase the overall attractiveness of your logo by complementing the message
Be sure to pick a font that will increase the overall attractiveness of your logo by complementing the message you are hoping to convey.
3. Makes Your Logo Unique
Although there are multiple trends in the graphic design industry, not all logos are created equal.
You still have the ability to follow trends without getting lost in the hundreds of thousands of logos out there.
How, exactly?
Through unique logo fonts.
One of the worst things you could do was pick a popular font and have a popular design trend incorporated into your logo. Not only will your design not be memorable, but it could make customers question the authenticity of your overall brand or business.
While the overall design of your logo may follow a popular design trend, you can elevate it by having a lesser-used font incorporated into it. This helps give your logo a unique flare that no one has ever seen before.
4. Reveals Your Industry
What type of industry does your business fall in? Is it more corporate, or fun?
Logo fonts are a great way to help your logo follow the nature of your industry. By picking a font that relates to it, people will instantly know the type of business you are promoting.
Small businesses have to be very careful when picking out font logos, especially since they may have very few chances to connect with customers than say a Fortune 500 company would.
A major corporate business probably wouldn't choose a font that conveyed a casual feel. On the opposite hand, a small business most likely wouldn't pick a logo font that makes it seem like it has large authority over the common man.
It all depends on the way you want your audience to interact and feel about your business.
Picking the right font also avoids confusing your audience. They will know right away the industry you fall under and the type of business you are — meaning they will know what to expect when interacting with you.
5. Reinforces Simplicity
If the mission and vision of your company is a simple one, you can convey this through logo fonts.
An overly complicated font choice can make your audience wonder if complexity is at the heart of your nature. If it wasn't, why would you want your first impression to convey it?
While complex font choices can look cool, they can actually have a negative impact on your audience.
Furthermore, complicated logo fonts don't always translate well to other platforms. If you're printing your logo, they can become distorted. More importantly, they might not translate well to smaller screens, such as mobile devices.
6. Sends the Right Message
You know the message of your brand or business, but does your logo reflect it?
Maybe your message is about helping others. Take a look at your logo. At first glance, does it resemble this message at all?
Logo fonts can convey big messages with minimal effort. How so? By the emotions they provoke out of those who see them.
Do you want people to feel a sense of trust when they see your logo? If so, you need a font that will help them feel that way. You can achieve this by picking one that is elegant but strong.
Or, you want people to know that your brand and business is confident in your industry. That would require a much different font than a company who wanted to emit a young or fun message.
7. Shows Professionalism
Professionalism is important. The entire concept of it embodies reliability, consistency, and quality.
If you want people to know your company reflects those characteristics, consider implementing a professional logo font into your design.
Professional fonts can fall into the more classic category, and also reflect simplicity.
When it comes to professionalism, you want people to be able to focus on the product or service you are offering without getting distracted by other things.
Picking a font that isn't overbearing or complex will help your logo accomplish a more professional look and message.
8. Calls Upon Your Target Audience
Going in hand with memorability, logo fonts can call upon your target audience.
If you know who you want your customers to be, you need to make sure your logo speaks to them on a personal level.
If it doesn't, you may end up attracting the wrong people!
Is your target audience older? Maybe a more simple, easy to read font would be appropriate.
Is your target audience younger? Then a cutting-edge font could be the right choice for your design.
Not only will your target audience connect with your business through your logo, but a sense of credibility will be created as a result. You know them well enough to know what will draw their attention — it shows that you care.
9. Pleasing to the Eye
While you may think the design of a logo is the most important part, don't forget that your font is what completes it!
Picking a font that is pleasing to the eye will finish the overall look of the design.
Think about it: would you want a chunky, loud font ruining your elegant, sleek logo?
Your design and logo should go hand in hand. If one is big and bold, the other should follow. If not, the two could clash — and create a logo that is seriously hard on the eyes.
10. Makes Your Logo a Show Stopper
In hand with memorability, the right logo fonts can help turn your logo into quite the show stopper!
While design and color are important, a killer font can be what catches the eyes of your audience the most.
Are you wanting a strong statement? Then you'll need to choose a strong font. You might also want to consider the typography that you will use: will your lettering be in bold? Italics? What will grab the most attention?
Picking out logo fonts is more psychological than you may originally think. A lot of creativity and thought goes behind the most recognizable logos, so be sure to consider many different aspects when creating yours.
Conclusion
Overall, picking logo fonts isn't an easy task. There are multiple things to consider, such as: who your target audience is, the message you want to convey to it and the lasting impression you want to make on it.
If you're looking for more tips on how to create beautiful logos, we regularly write about them on our blog here.
And, as always, be sure to contact us with any questions you may have when it comes to creating a compelling, flawless logo for your company. We would love to help!
---
No Comments