Back to homepage
15 Free Logo Mockups
Posted on November 16, 2016 by
Logo designs play a crucial role when it comes to the success of a business. Good Logo Mockups are an easy way to have a realistic preview of your logo. In order to help you present your logo designs to your company or partners with the strongest possible impact, we have gathered 15 logo mockups. They are PSD files ready to receive your logo, but it needs to have transparent background and be in B&W for a perfect result. 
How to use it
You don't need to be a Photoshop specialist, you just have to download a free logo mockup and extract all the files from the folder. Then you open the file .PSD on Photoshop and click over "Your logo Here" at the Layer box with the right button and then click "Edit Contents". Mockup works like a Smart Object, which means a separate file. Now you can go and replace the initial logo for yours. Now just save the Smart Object, come back to the mockup file and it's done!
This wood engraved effect works great with any logo, shape or text. It's quick and easy! All you have to do is to replace the current logo with yours inside smart object, and then save it. Dimensions: 2300×1533 px. File Size: 14.3 Mb.
Create a realistic printed leather effect for your logo, badge or lettering. This PSD template uses smart object feature, so you can easily replace current logo with your own in seconds. Dimensions: 2300×1650 px. Size: 7 Mb.
A realistic window graphics mock-up to showcase your logo and lettering. Simply edit the smart object to add your design and quickly create a unique effect. The PSD template comes in high-resolution, so you can easily adapt it to your needs. Dimensions: 2200×1500 px. Size: 6.9 Mb.
Get a 3D look with this realistic logo mockup. As you already know, smart objects are there for you. The light effect on top might need some adjusting depending on the shape of your logo. Dimensions: 2000×1500 px. Size: 8.8 Mb.
Metallic foil stamping is a great way to add "prestige" to a design that calls for polished look. Use the smart object feature and quickly create a great presentation. Dimensions: 2300×1600 px. Size: 4.3 Mb.
Showcase your designs with this photorealistic PSD mock-up template. Just place your logo inside the smart object layer and you'll get this great 3D wooden logo effect. Have fun with it! Dimensions: 2400×1600 px. Size: 13 Mb.
Have you ever wondered what your logo looks like embroidered on a t-shirt? Use this PSD mock-up to get a quick idea and be sure to change the texture color to go along with your design. Dimensions: 2300×1600 px. Size: 11.2 Mb.
There is not only one, but 9 special Logo Mock-ups on this link. They are 9 different images editable via smart object. Dimensions: 2000×1333 px.
A set of 6 logo mockups on different types of wood with vintage effects. 6 PSD files (CS3 or higher) and 6 JPG preview files. Very well organized layers and smart objects to easily replace logo. Dimensions: 1600 x 1000 px.
This free file is a PSD scratched metal logo mockup, ideal to showcase your logo designs, text or flat objects in a different way – on a metal plate. Logo mockup is very realistic, just drag & drop your final artwork thanks to our smart layers in file. Dimensions: 1100×900 px. Size: 9 Mb. 
This logo design is for cretive business and all other business category. Logo design is fully editable. Bonus blurred curved wood texture. Dimensions: 2200 x 1600. Size: 24,9 Mb.
A quick and easy way to showcase your brand with professional product images. Easy to place your designs using smart objects, double-click the Smart Layer, copy & paste your artwork, save and you're done! Dimensions: 4100×2733.
This stationery mockup of premium quality, perfect for any restaurant and food-related branding presentation, would become a great addition to your toolbox. Simply place your designs using smart objects. Dimensions: 3500 x 2335 Px.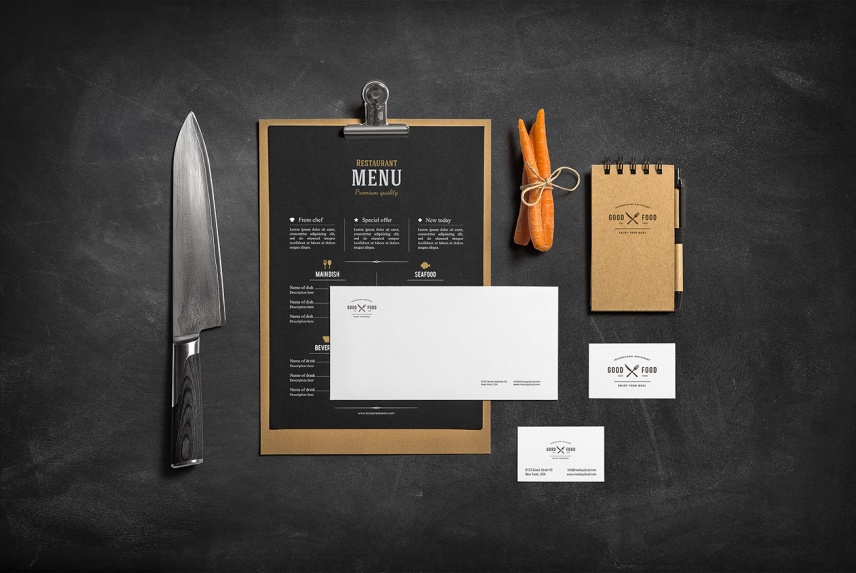 The last but not least mockup in my list is neat display for your vintage branding projects with this high quality logo mockups. Drag and drop your work inside the smart layer, edit the background and you'll be done in no time. Dimensions: 4608×3456 px. Size: 100 Mb.
---
No Comments