Back to homepage
Are You Sending the Right Message with Your Logo Color Scheme?
Posted on June 15, 2018 by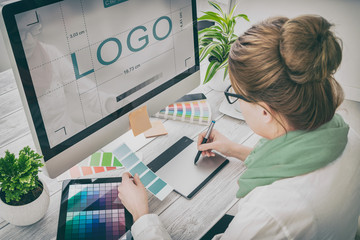 When you are trying to grow your business and your brand, one of the biggest sticking points can be your logo. When you are designing the perfect logo, you want it to send the right message about your company, your brand and what you stand for.
You thought it was all in the picture, the logo design and the wording, which it is. But you didn't consider how important the color scheme was.
Your logo color scheme can be one of the most important aspects of your logo. Your colors tell a story about your brand that people pick up subconsciously in the brain.
Great, so you need to pick the right colors for your logo.
But there's a problem.
What are the right colors? What do the different colors mean? What are your colors saying about your business?
This article will guide you through the whole process.
Let's begin.
What Your Color Scheme Say's About Your Business
Your brand's logo is one of the most important aspects of your business. What many people don't realize when they start to design their logos and branding is that color schemes send a message.
When picking the colors you'll represent your business with; you should be thinking about what message your logo color scheme is sending to your audience. Color increases brand recognition by up to 80%.
It's important to think about your branding when designing a logo. 90% of all purchasing decisions customers make subconsciously. That means it's vital for your company to choose a color scheme that evokes positive emotions.
Picking Your Logo Color Scheme
When you look at branding, the colors you choose can have a powerful effect on your customers. Color is both emotional and practical and can make a big difference to what people feel when they look at your logo.
As always, just because something is true doesn't mean it's easy to figure out for yourself. So how do you go about picking the right colors for your business?
Well first, you should understand the symbolism and psychology behind colors. There's a lot of logo design trends in 2018, but it should all start with color.
Let's explore some of the things you should be looking out for when picking your logo color scheme.
The Meaning of Colors
What's in a color? A lot apparently. Colors you pick for your brand and logo can have a subconscious and psychological effect on your customers.
Let's look at some of the most popular color choices and see what message they send to customers.
Red – Think Passion, Danger, Energy & Excitement
Red is a color you'll see pop up in logos all throughout the business world. The color red has a lot of varied associations.
In your logo, you'll find that using red is a powerful way to pack a punch. It's also known to be a color that reveals desire and passion.
It's no surprise that brands like Ferrari run with the color red in their logo. Everything about the company revolves around passion, power, danger, fire and to some even sexuality.
The color red can mean bring out a lot of subconscious feelings:
Red can evoke strong emotion
It encourages appetite
Red increases intensity and passion
The red rose even symbolizes love
In marketing, it can increase the heart rate
It can create urgency in sale posters
Companies use red for impulsive shoppers
Companies like Netflix, McDonald's, Kelloggs, YouTube, Coca-Cola & Target are all big lovers of the color red in their branding.
Blue – Trustworthy, Calming, Depressed & Highly Communicative
Blue is one of the most universally used colors out of all of the color palette options. You'll find blue to be a highly versatile color that can communicate a lot of different feelings to your customers.
If your company is looking to give off the impression of reliability, trust, and great communication, then blue might be for you. You only need to look at some of the largest communication companies in the world such as Facebook, Twitter, and Samsung to see that this is true.
The color blue is also considered a calming and peaceful. often associated with the ocean and the sky. Remember though that the emotional feeling of 'being blue' refers to depression and sadness.
Here are some of the emotions that blue can subconsciously evoke:
People associate blue with water and peace
It's most preferred by men
It curbs your appetite
It's thought of as a cold color
Blue gives the perception of consistency through life
It increases productivity
It's the most used color in offices
In marketing, blue's considered non-invasive and productive
It creates a sense of security and trust in your brand
You'll find some big corporate companies like Facebook, Twitter, Pepsi, Ford, Dell, Walmart and Skype that all use blue in their logos and branding.
Yellow – Optimistic, Cheerful, Happy & Playful
Yellow, also known as the color of sunshine is one of the more fun and playful colors. Adding this color into your branding mix can give your customers a smile.
It's also one of the most noticable colors, which is why you see yellow used in street signs. It sends out messages of joy, friendship, and energy.
Yellow has associations with mental clarity and intelligence. You'll also find yellow used in cautionary situations like life jackets, hazardous areas and even in cautioning tape.
Here are some of the emotions that yellow can send your brain subconsciously:
Yellow can increase cheerfulness
It's a warming color
Can cause fatigue on the eyes
Stimulates your brains processes
Stimulates the nervous system
Yellow can encourage communication
In marketing yellow can represent optimism and youth
It's used to grab customers attention in windows
You can find yellow in company logos such as Ikea, Nikon, Cat, Sprint, McDonald's, Best Buy and Denny's.
Which Logo Color Scheme Suits Your Companies Message?
There's a lot of different choices when picking your logo color scheme. The three main primary colors, red, yellow and blue are some of the most used across all industries.
Deciding on the right color can make a huge difference in the message you are sending to your customers.
---
No Comments