Back to homepage
Choosing Business Color Schemes for Logos: A Complete Guide
Posted on July 31, 2018 by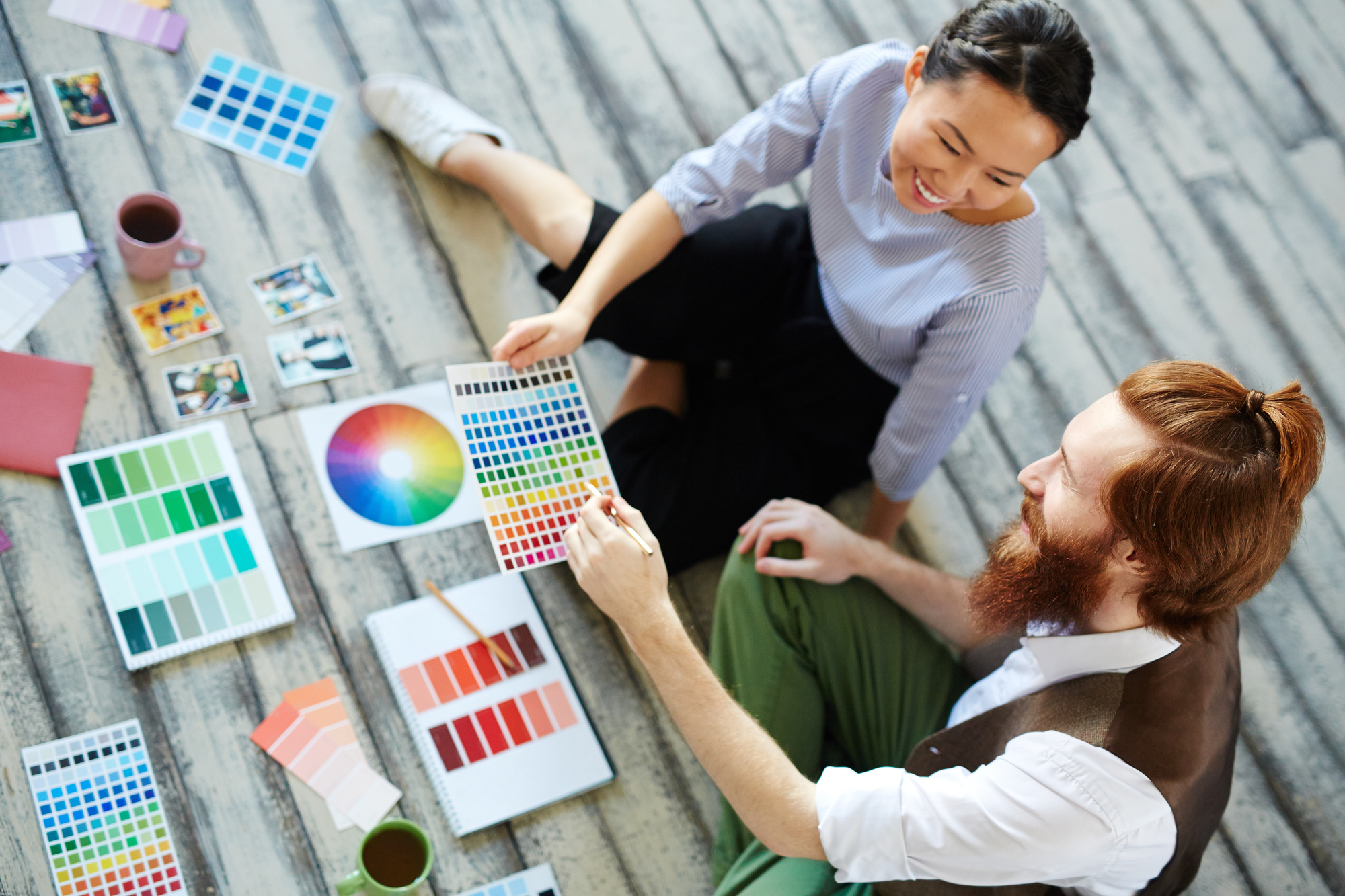 When you're ready to start making some tough decisions about your logo design, we know that the colors you plan to include are one of the things that you'll think about first.
But what sort of business color schemes will help you to connect with your target market?
And what are the best colors for logos when it comes to evoking emotion in the people who see it?
That's what this post is all about.
From selecting branded colors to understanding how the associations people have with colors will influence your choice of logo design, we'll tell you everything you need to know.
1. Consider Your Brand First
When you're trying to come up with business color schemes, the very first thing that you need to consider is the overall message and story behind your brand.
For example, if you're a consulting company that is goal-oriented, got its start in Silicon Valley, and works primarily with customers within the financial sector?
Then calming colors like light pinks and pastel purples aren't exactly consistent with the message that you're trying to send.
However, if you're running an online boutique dedicated to Kawaii fashions? Then those pastel hues will be the perfect selection.
If you're stuck on how to choose the right colors for your logo, take a look back at your Instagram feed. Which colors do you see primarily in your photos? If you're an outdoor company, you'll likely see lots of browns, blues, and greens.
But if you work in event planning, you might realize that gold, silvers, and classic black are better fits for your brand.
Another awesome way to come up with the right color choices for your logo?
Create a mood board.
Gather together pictures (from anywhere) that you feel best represent your brand. Then, look for color consistencies, and go from there.
Finally, researching the social media accounts of your target market is also an awesome way to make a final decision about your business color schemes. Take a look at the colors they gravitate towards, and make note of any consistencies.
Don't expect to get things right on the first try, either. You'll likely need to play around with tons of different color combinations before you commit to the best logo color schemes for your brand.
2. Know the Emotions Colors Can Evoke
Another key element that you'll need to consider when you're coming up with logo color schemes?
Make sure that you've taken the time to think about the emotions that certain colors can create in the people that interact with your logo.
For example, did you know that the color red has been scientifically proven to elevate blood pressure levels, as well as to increase your overall heart rate?
This is the perfect choice if you're a discount store that wants to create a sense of urgency, but it's not exactly a great fit for a bridal gown company, where stress levels are likely already high.
Additionally, you'll need to think about which colors are recognized as a part of a certain industry.
For example, when people see the color green, they're likely to associate it with the financial industry.
When they see oranges or yellows, they might associate your brand with relating to being outside in the sun (like a tanning salon or a travel agency specializing in beach vacations.)
Talk with your team — and even consider creating a poll on your company social media accounts — to learn more about the kinds of associations that your target market has with certain colors.
3. Ensure Your Colors Keep Things Legible
So, you've finally settled on colors that you think resonate well with both your brand and your target market.
But have you taken the time to consider how the choices you've made will look with the colors of text and the font that you're planning on using on things like your website or physical business cards?
If not, now is the time to do so.
In general, if you'd like to keep things as legible as possible, we suggest that you go with no more than three different colors in your logo design — though if you can cut that number down to two, all the better.
If you're dead set on using more than three colors, then ensure that they compliment each other well. You can use this article on which colors best compliment one another as an excellent starting point.
Finally, keep in mind that when it comes to any images you want to include in your logo design, less is more.
Choose one central image, and ensure that it's completely in line with your branding strategy. If you can create a secret image or sneak in a hidden meaning into your logo, as these companies did?
It's an awesome way to generate buzz about your brand — which is especially important if you're still in the growth stages.
Making Business Color Schemes a Part of Your Logo: What Now?
Now that you've finalized your color choices, your font styles, and even made a choice about the central image that you're planning to use in your logo?
It's time to start bringing your business color schemes to life.
But as we mentioned earlier in this post, it's likely that you'll go through several different re-designs of your potential logo before you decide on "the one."
Looking to find a free online logo maker tool to help make that trial and error process easier — and even fun?
We've got you covered.
Our blog is also packed with continually-updated advice about the hottest trends in logo design and development — so be sure to bookmark this page before you go.
---
No Comments