Back to homepage
How to Host a Dinner Party Your Friends Will Love
Posted on October 19, 2020 by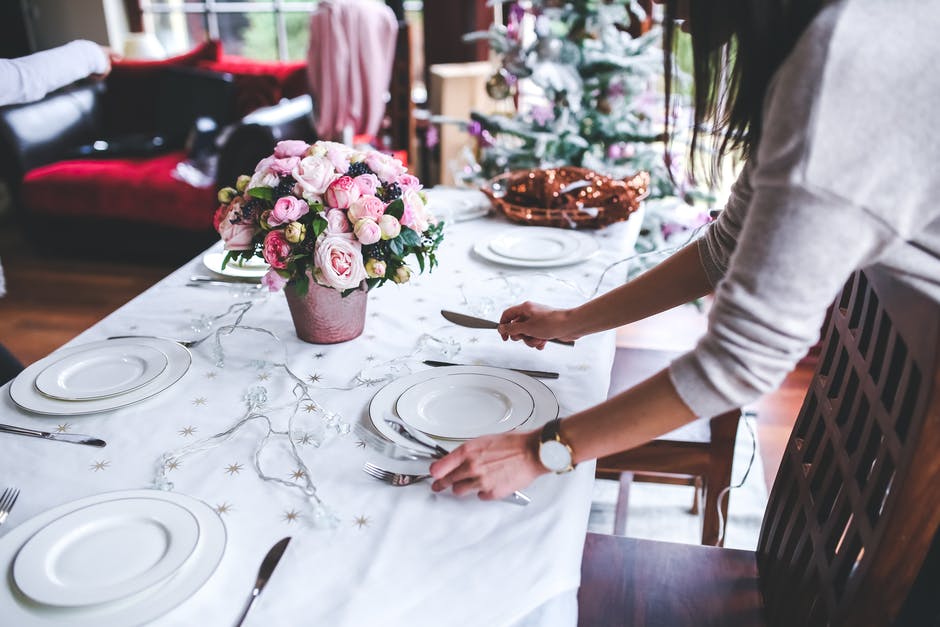 Hosting a good dinner party is one of the true marks of adulthood. There's no better feeling than inviting your friends into your home, serving them a thoughtful meal, and connecting with them through conversation.
But if you've never done it before, you might be feeling a little lost in the weeds.
Not to worry. The following guide will not just tell you how to host a dinner party, but how to host a great dinner party. Before you know it, your friends will be asking you for all your dinner party tips.
Establish the Theme
Not every dinner party needs to have a theme, but you should always consider the intention behind a dinner party. Is it someone's birthday? Did your BFF just get a big promotion?
If there is a reason to celebrate, consider making it the focus. Other great themes include book club dinner parties, holiday dinner parties, or seasonal themes like "Autumn Harvest."
Basically, anything that gives you and your loved ones a reason to come together.
Prepare the Scene
You've probably already thought to deep-clean the house, but there are a couple of key problem areas that you should focus on.
Bear in mind that over the course of the evening, your guests will generate trash and dirty dishes. So before any of your guests arrive, make sure your trash and recycling receptacles are completely empty. You don't want to take out an overflowing trash can in the middle of your party.
Also, ensure that your dishwasher is empty. That way, you can stack in dirty dishes as soon as they appear, minimizing your clean up and keeping your kitchen looking fresh during the party.
Nail the Decor
An attractive table spread is critically important when planning a dinner party. Consider investing in a nice tablecloth that you can break out on special occasions. 
Select a material that will be easy to clean for multiple uses, but will always look new. Polyester tablecloths are great for the frequent host.
Next, choose a centerpiece. As it says in the name, the centerpiece is meant to draw your eye in. You want it to be good.
The best centerpieces reflect the spirit of the times. If it's summer, a bouquet of sunflowers is lovely. In the winter, incorporate some holly with red berries. 
You can pick up any number of good centerpieces at the store, but you can just as easily make one from what's available in your garden or in the neighborhood.
If you want to achieve an elegant spread, all of your dishware has to match. But it's okay, you don't have to buy top quality dishes for everything. That can get expensive really fast.
Consider spending a little bit more on nice wine glasses and nice silverware. Fine wine glasses can literally improve the wine drinking experience, so it's a good thing to spend money on.
You don't need to spend as much on plates, bowls, or napkins. Generics will look nice and will be just as durable.
Consider the Menu
Contrary to popular belief, you don't have to be a celebrity chef in order to host a good dinner party. But you do need to carefully consider what to serve.
The main course should be something that you can make in large quantities without too much effort. Pasta dishes are a good example of something that can be made for a lot of people. Plus, they are always a crowd favorite.
But you'll also want to include hors d'oeuvres and dessert. Cheese plates work well, but make sure you don't let your guests fill up on brie and charcuterie. 
Prepare as much in advance as possible, so you don't have to do much actual cooking when your guests are present. You are most likely to burn a ham or forget an ingredient when you're trying to host while you cook.
Another important aspect of planning the menu is to consider any dietary restrictions in your group. If you don't know your guests that well, be sure to ask them when they accept your invitation. You don't want to make a chicken alfredo to serve, only to realize that one of your friends doesn't eat meat.
If you are having more than 6 or 8 people at your party, feel free to make it a potluck. Potlucks are fun because they let everybody participate in creating the meal together. But as the host, it's on you to make sure you don't end up with everybody bringing the same thing.
Determine the Ambiance
Many people who are wondering how to host a dinner party haven't considered ambiance. The ambiance is all in the details.
If you have never thought about creating ambiance before, make notes next time you're over at someone else's home. What do they do to set the mood?
Candles are an excellent go-to choice. Try picking scents that complement the theme or tone of your dinner party. For example, if you're having people over for a Halloween dinner, try a "candy apple" scented candle.
Place the candles strategically. Leaving one burning in the bathroom is a great idea. Just remember to put it out when the party is done.
Plan Some Activities
Your dinner party doesn't need a hard and fast agenda, but it will help you host if you plan out some activities. Activities offer structure, and the opportunity to keep the conversation fresh.
Lawn games like bocce ball are excellent in the summer. For a group of five or six people, try a board or card game. Pick something accessible, that everyone can be a part of.
How to Host a Dinner Party Like a Pro
Hosting a dinner party for the first time can be intimidating. But with the right guidance, you'll look like an old pro. Remember that there are so many ways you can make your evening unique, and the most important thing is to have fun with your friends.
Looking for more tips on how to host a dinner party? Check out our Lifestyle section.
---
No Comments