Back to homepage
The 7 Coolest Tech Logos of All Time
Posted on June 19, 2018 by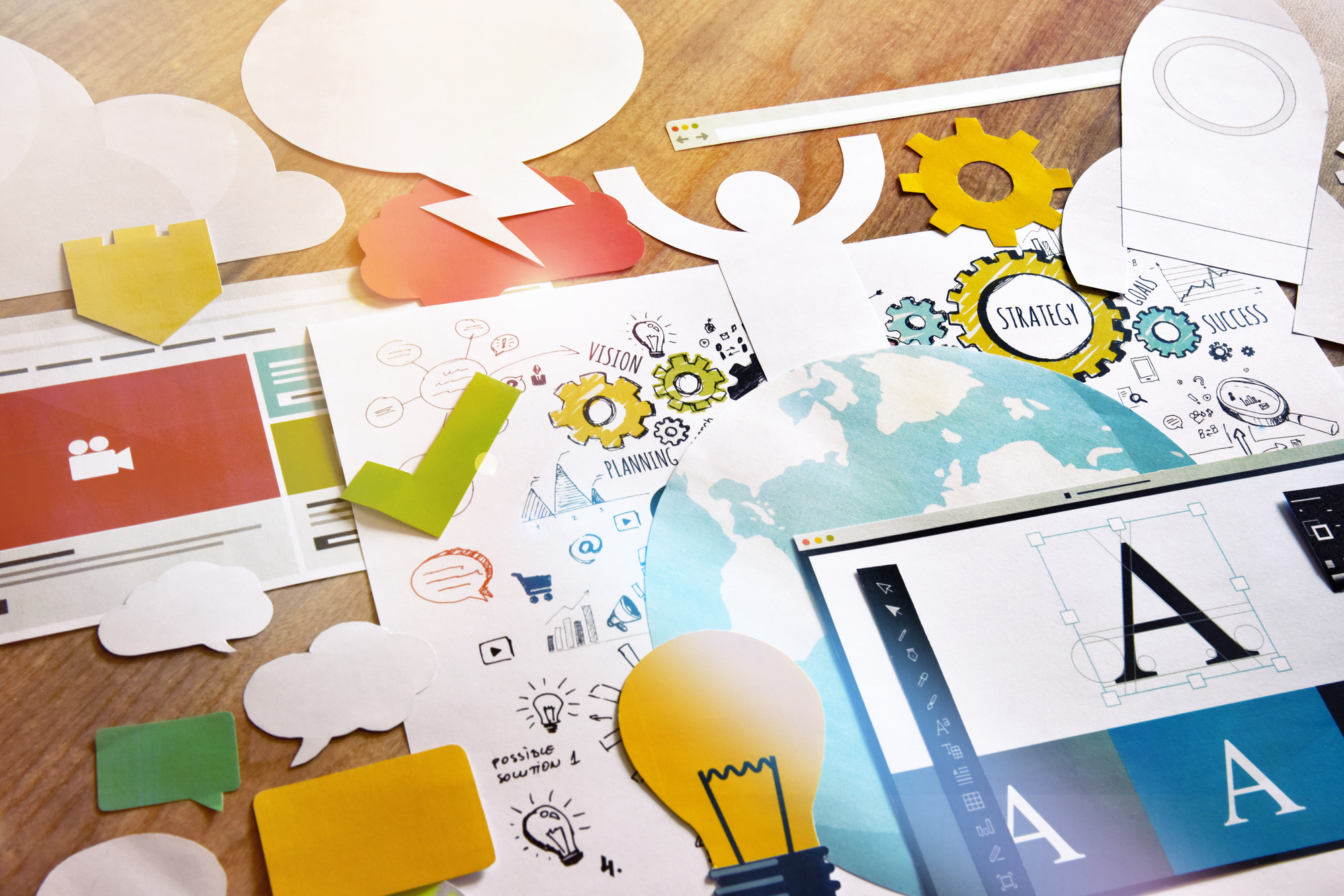 In today's crowded marketplace, it's never been more important to make a good impression. Your logo plays a crucial role in making a lasting impression on your customers. This is especially important in the hyper-competitive world of tech startups.
There are over 100,000 software companies currently operating in the United States. That statistic alone illustrates why a good tech logo is necessary for your business to stand out.
To help get you thinking about what constitutes a good tech logo, here are seven of the coolest tech logos of all time!
The Coolest Tech Logos EVER!
Graphic design is always changing. Tastes and trends are mercurial, shifting like the tides and the seasons.
That being said, a great graphic design should aspire to be timeless. It should weather the passing trends and transmit something essential about the brand's identity.
To help you decide on a timeless tech logo of your own, here are some of the most iconic logos for tech companies of all time.
1. Apple
Let's start with the classics. While Apple's iconic tech logo has become omnipresent, it still effortlessly radiates cool, modern, and chic.
Steve Jobs and Steve Wozniak are more than just programming savants. They're also marketing geniuses, judging from the fact that Apple's logo has managed to remain synonymous with high tech for several decades.
To settle on their logo, Steve Jobs contacted designer Rob Janoff with a very open-ended design brief. "We're calling it Apple," was the only direction Janoff received.
Janoff's iconic design is a testament to solid design principles. The missing chunk out of the apple was to help the tech logo be recognizable at any size, as well as to maintain a weighted balance.
You can't enter a coffee shop or boutique without seeing Apple's logo glowing from at least half-a-dozen screens. This will likely still be true in 50 years.
2. IBM
While it might not seem as "sexy" as Apple, it's hard to argue with a tech logo that's remained timely for over 45 years. Paul Rand's updated logo for IBM is a landmark of timeless design that still somehow seems contemporary
Rand's tech logo design is also a primer on solid design principles. The rounded inlay between the 'I' and 'B' is meant to approximate a globe. This was to emphasize the "International" of "International Business Machines."
Chances are, you never even noticed. Paul Rand's design is subtle and unobtrusive, as the best designs should be.
3. Pinterest
Pinterest's logo has become so omnipresent we might not think twice about it. Take a second look, however, and you'll notice some surprising details.
For Pinterest's most basic icon, which is the letter P in a simple circle, it's a testament to the timelessness of a monochromatic design. There's something about red and white together which has created successful visual branding for countless entities, from Coca-Cola to The White Stripes.
It's just as subtly cool when Pinterest does it. It also looks great against both light and dark backgrounds, making it appropriate for most print situations.
The full Pinterest logotype is what really stands out, however. Take a closer look and you'll notice the bottom of the P is actually a pen nib, designed to appeal to Pinterest's craft crowd.
4. Jelly
A relative newcomer on the scene, Jelly's logo says a lot in a short amount of time. In today's content-heavy world, a great tech logo should communicate as much as possible in a split-second.
Jelly is a search engine company, geared around conversational search engine queries, predicting the rise of speech-based search several years ago. Jelly was acquired by Pinterest last year, which is a sure sign their branding is working.
Jelly's logo blends two ideas into a seamless whole. It's a jellyfish which is also a brain. Without ever saying a word, it reminds us that we're all just floating nervous systems within this complex ecosystem.
5. Orbotix
Coming across as playful while still being able to be taken seriously is no easy task. Boulder, CO's Orbotix pulls it off gracefully with the robotic tech logo it uses for its smart robot products Sphero and Ollie.
The Sphero logo looks like a cross between a Pac-Man ghost and a Star Wars droid. Which is appropriate, as Orbotix also manufactures some Star Wars merch. The tech logo manages to be recognizable while also still seeming novel and contemporary.
6. Snapchat
Snapchat is one of the most popular apps with teens, who are notoriously difficult to please when it comes to being "cool." Snapchat's monochromatic yellow-and-white "Ghostface Chillah" logo pulls it off effortlessly.
It's not hard to imagine a league of 18-year-olds getting the ghost logo tattoos. It's also not hard to imagine a room full of investment bankers bending over backward to hand Snapchat cash, to capitalize on their hipness.
Snapchat's logo hasn't always been so graceful. Ghostface Chillah used to have a face, which created a busier, clunkier design. The new minimalist reimagination makes the tech logo design speak to nearly any demographic you could think of, with no text required.
7. Nest
The Japanese have a word called "Ma," which means "a constructive use of negative space." In logo design, Ma is your friend, as you have very limited real estate to communicate the most important ideas about a product or brand.
Nest communicates its vision of a smart home easily, using a lower-case 'N' as the doorway for a home. Smart, simple, chic, and to the point, if only all designs could be as graceful and elegant.
Are You Looking For A Tech Company Logo?
There are thousands of tech companies being created each and every year, so it's hard to pick less than ten great tech logos. Hopefully, our roundup has given you some ideas on how to showcase your tech company in its most stylish light.
Over two million brands have created top-notch visual designs using our online logo maker! Create an account with us today and let us showcase your tech business in its best possible light.
---
No Comments