Back to homepage
The Not-Photoshop Way to Design a Logo
Posted on July 18, 2018 by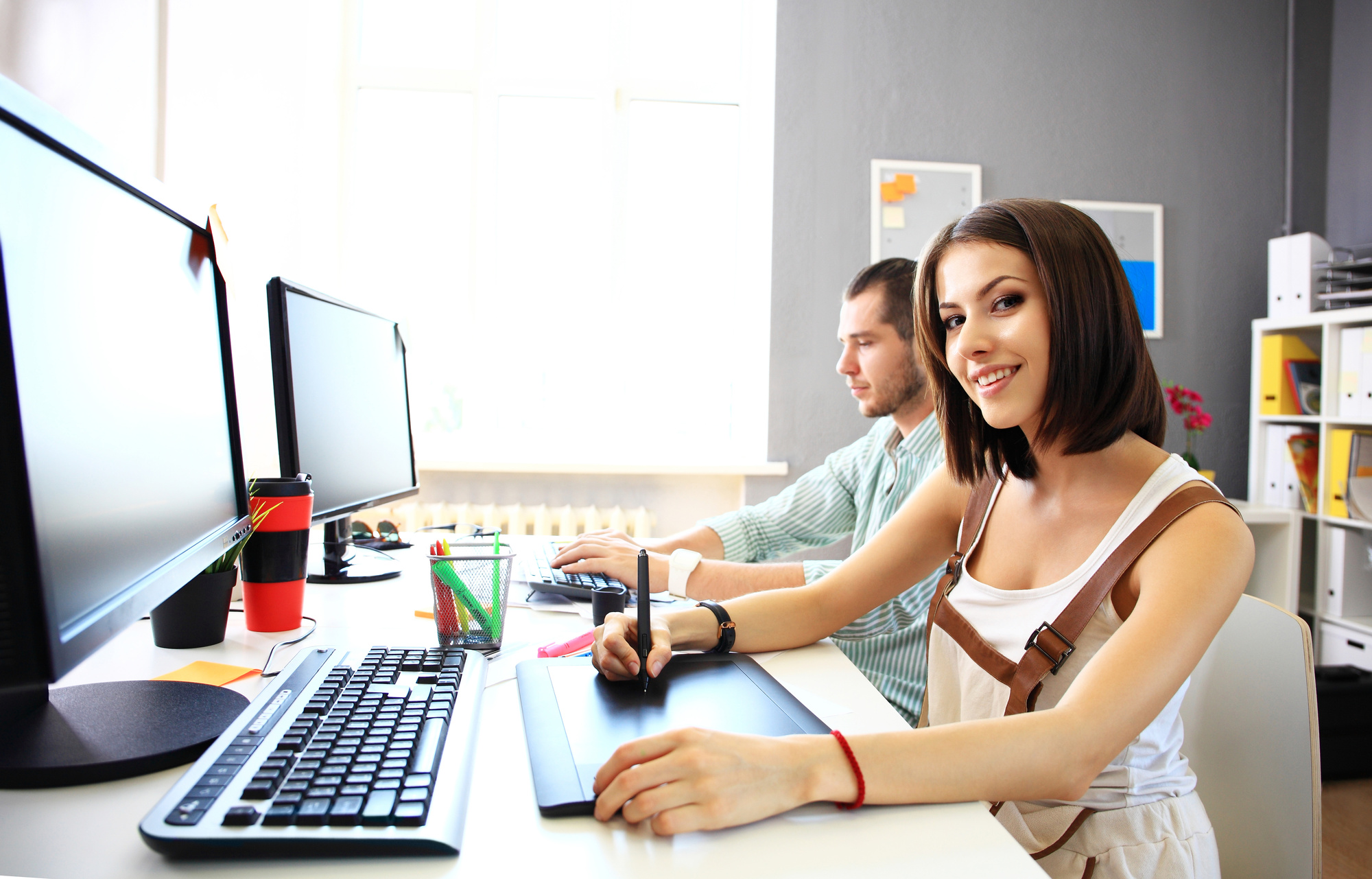 Logos are expensive.
Graphic designers make good money using the tools of the trade to make a logo for your brand. And they should.
After all, they are signing over the intellectual property that will hopefully propel your business into branding success.
Your logo is the face of your brand, but some people can't afford to hire an expensive graphic artist.
For those people, the idea of learning Photoshop and paying for a costly subscription may not be the best solution.
Luckily, there are alternatives that are not Photoshop, and that's what we will discuss here.
1. Choose an Online Logo Maker
There are a number of online logo tools to choose from, we recommend ours.
Using OnlineLogoMaker, you have access to how to's and tutorials that will help you craft your logo in no time at all.
All you need to do is register for an account with your name and email and get to work on the logo that will drive you to brand recognition in no time.
We even offer support, so you don't have to go it alone should you get stuck on a project. That's why we are the best program to make a logo.
Steps to Using OnlineLogoMaker
Here's how to use OnlineLogoMaker to increase your brand presence:
Navigate to http://www.onlinelogomaker.com
Register for a free account or log in
Select Create a New Logo
Start drawing
Getting a professional logo has never been easier.
2. Hire From Fiverr
A great option for those seeking an inexpensive logo without the Photoshop skills is to hire a freelancer on Fiverr.
Sometimes this results in outsourcing work to other countries, but with many options to choose from you can find a designer that understands your vision.
The great thing about Fiverr is good designers get a lot of work, and therefore have a lot of reviews. You can see, in advance, if you're partnering with someone who is likely to deliver.
With prices starting around $5 for a logo design, it's going to be your most hassle-free bet.
How to Hire a Freelancer
Use Fiverr to find the right person for the job!
Go to Fiverr.com
Type 'logo design' in the search box
Select a designer in your price range with lots of positive reviews
You'll be prompted to create an account before purchase — Bonus: it's free to create
Don't miss out on professional design services when a new logo is at your fingertips.
3. Look For Free Alternatives
Through the advent of web applications, there are a number of Photoshop simulators and alternatives to buying the program itself.
These differ from online logo makers, which tend to be more simplistic because Photoshop simulators offer a number of robust features for savvy users.
These can be used to make everything from logos to marketing materials, ads and more. But be careful, because they do tend to have a learning curve.
How to Find the Right Not Photoshop Simulator
If you're looking for something with all the capabilities of Photoshop, follow these steps:
Navigate to Google
Search "Photoshop Simulator"
Select from products available
Choose a simulator that you like
Start a design
Photoshop simulators have many tools, like retouch and smudge tools. And they use layers to create unique vector images for those seeking a new logo.
4. Find a Logo Mobile App
Depending on what phone you use, your mobile app store likely has logo design tools available for your consumption.
Just navigate to your app store and type in "logo design" to see what's available.
These range in price from free to a couple of bucks. Some will have in-app purchases, like templates, that might offer a design you fancy.
Generally, this is a cheap and easy option for getting a logo made to be visible online. But to ensure your logo has the print quality you desire, you are likely better off using one of the other tools mentioned above.
What to Look for in a Mobile Logo App
These may seem like a dime a dozen, focus your search around:
The option to create high-resolution images suitable for print
Lots of free or inexpensive template options
Full range of colors and design choices
They have an app for that! Using a logo app makes logo design attainable for small businesses and freelancers.
5. Focus on Minimalism
Minimalism is all the rage. That's a good thing for those seeking how to make a logo design without Photoshop.
It's okay to follow the rule of "K-I-S-S":
See what we did there? We think you're smart for wanting a simplistic logo design. And graphic designers might agree, considering minimalist logos are on the rise.
Minimalist Design Pillars
The minimalist principles of logo design include:
Simplicity
Selective typography
Strategic use of whitespace
Attention is given to the design proportion
Make it memorable and timeless
Keep it clean
With these pillars in mind, you can draw up a logo design in no time.
6. Take Google Drawings for a Spin
If you've had to work collaboratively at all recently in your career, odds are you've used Google apps.
A new tool launched by Google called Drawings helps users like you define your brand.
Using Drawings you can do some of the same things as Photoshop but in a more simple format.
As a logo tool, Drawings allows you to select and arrange fonts and shapes to create simple designs. You can add and change colors, select photos, or free draw.
How to Use Google Drawings
Here are some quick tips for effective use of Google Drawings:
Log into your Google Account
Select the Google Apps Logo and click on Drawings
Familiarize yourself with the icons in the toolbar
Use the toolbar to begin your design
For those already familiar with Google Apps, a big bonus to using Drawings is the resemblance to other Google tools you've already learned.
If Not Photoshop, What?
Gone are the days where business owners have to ask, "If not Photoshop, then what can I use?"
There are a lot of good, free and inexpensive options for small business owners looking to get a great design.
These include mobile apps, web apps, Google apps and more! For other great tips on how to brand your business, visit us here.
---
No Comments