Back to homepage
A Step by Step Guide to the Logo Designing Process
Posted on January 25, 2019 by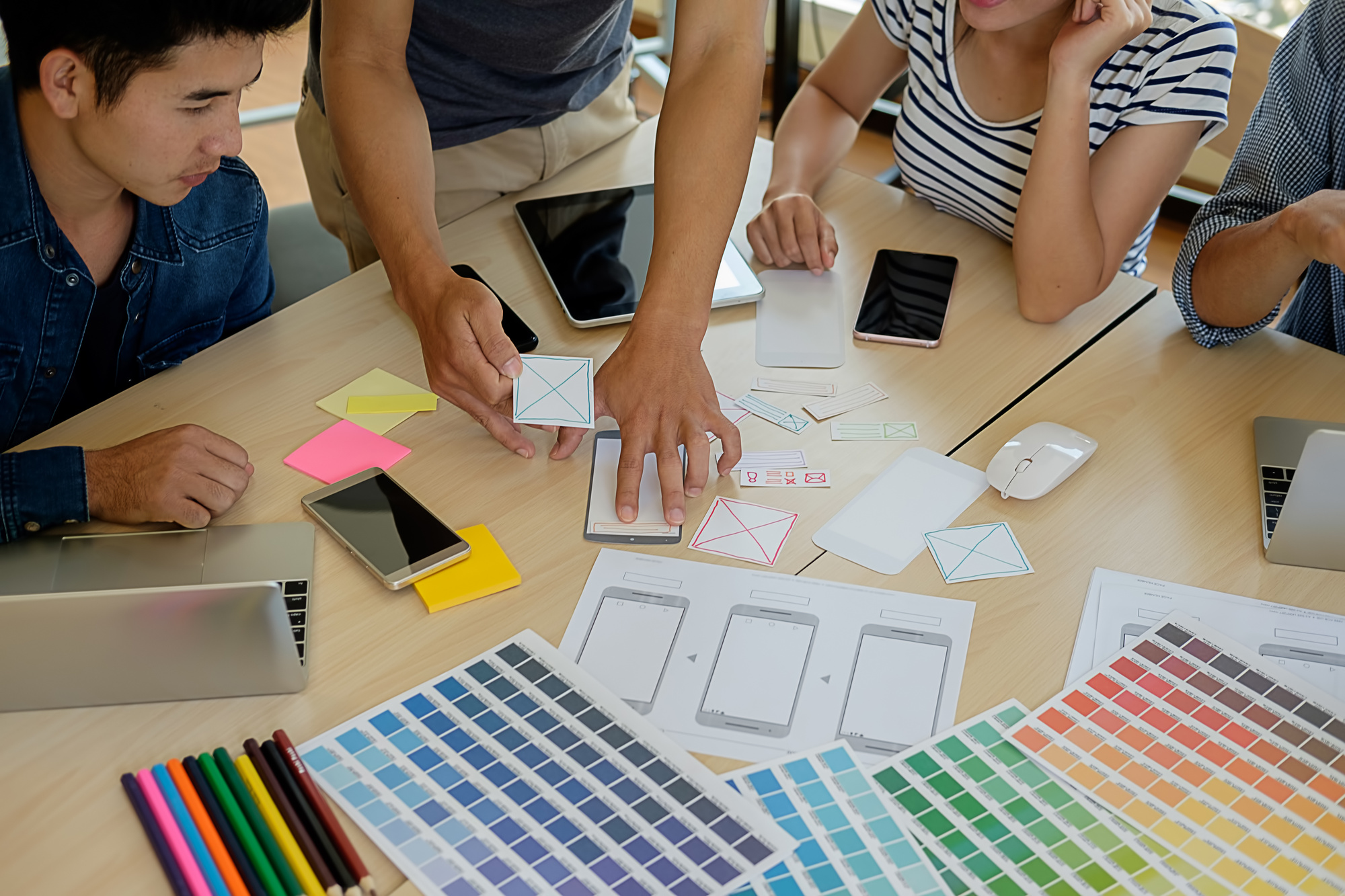 Would you like to learn a logo designing process that professionals use?
Your logo is the first thing that people often see about your company and often used to form a first impression.
Have you ever heard that you only get one chance to make a first impression? A logo is your chance to do that, but you only have about 10 seconds to create that first impression with your logo.
What to know how to create a logo that will make the right impression?
Read on to learn the logo design process that will impress customers and employees.
1. Brand Soul Searching
Do you know what your brand stands for? If you don't, that's the first step in the logo designing process.
Your logo should be aligned with your company's values, mission, and marketing messages.
You need to have a clear understanding of these pieces before you start to design a logo because otherwise, the logo won't be a true reflection of your company.
Another piece of critical information needed to design a logo is what you want your customers to think of when they think of your company.
For example, Volvo's customers think of safety when they think of the company.
2. Competitive Research
Looking at your competition's logos will give you great insight as you start to design your logo.
Think about it this way, the average person sees up to 8,000 brands in one day. How will your brand stand out from the thousands of others?
Look at other logos and write down what you like about them, what you don't like, and what your first impression is.
This will help you design a logo that stands out.
3. Learn Basic Principles of Design
If you want to know how to design a logo, you're going to have to learn the basic principles of design.
Color, typography, and symbols all work together to form an impression in the customer's mind.
For example, red indicates a sense of urgency while blue gives people a sense of stability and security.
You need to brush up on these details before you start to design your logo so you know that your logo conveys the right message.
4. Brainstorm Ideas
This part of the logo designing process is the most fun because this is where you get to be creative and free.
You get to take everything you've learned about your business, design, and your competition and apply it into the design process.
Draw out sketches of logos. Include what typeface they should be and what colors to use.
If you don't like to draw, then you can play with a logo design tool. Ideally, you'll have 3-5 variations of your logo to work within the next steps.
5. Think About How the Logo Will Get Used
As you're toying with different ideas for designing your logo, you'll need to consider how the logo will be used.
Will it just appear in documents and your website? Will it appear on banners?
The application of your logo will also influence your design. As you're sketching logos, print out a copy and put it on a business card and other places it'll be used.
6. Tell a Story
Since your logo visually represents your company, it's an opportunity to give your logo meaning that has something to do with your brand.
For example, Nike is a sporting goods company that is about high-performance sportswear for all types of athletes. The name Nike and the swoosh relate to the Greek goddess Nike, who wore wings of victory.
As human beings, we relate to stories, just as much as images. You can create a similar type of symbolism in your logo to deepen the connection between your company and customers.
7. Test & Refine the Logo
One of the biggest design fails of all time is by Gap in 2010, which spent a lot of money on a redesign. When the new logo was released, there was such a public outcry the company reverted to the old logo within days.
That's why you have to test your logo before you release it out to the world. You can test a few variations of the logo against each other.
The thing to remember is that you have to go beyond your friends and family when you test your logo. Talk to your customers, potential customers, and employees.
You basically want to get a good sample size of the stakeholders in your business.
Ask them what their first impressions are of the logo. You can also ask them the first thing that comes to mind and whether or not the logo gives them a good or bad impression of the logo.
Also, ask them what they would do differently to improve the logo.
Take the best parts of the feedback, refine the logo, and go back for more feedback. This process should continue for a few rounds until you get a logo that looks great and conveys what your brand is about.
8. Finalize & Publish
After you go through several rounds of feedback, it'll be time to finalize your logo and release it to the world. It would be in your best interest to create a marketing campaign a few weeks before you release the logo.
You can create anticipation around your brand and tells the story behind the logo. This would have a big impact on your brand because you're creating positive emotions around your logo already.
When you release it and people see it and love it, that will reinforce the positive connection with your company.
An Easy Logo Designing Process
A lot rides on the look of your logo. Current and potential customers will look at your logo and make a snap judgment as to whether they want to do business with you.
Your employees will look at the logo and it can boost employee morale if you get it right. By following the steps outlined in this article, you'll be able to create a logo that your employees and customers can be proud of.
For more great articles about logo design, check out these articles on the best file formats for logos and how to convey brand personality in your logo.
---
No Comments