Back to homepage
15 Tips for Designing a Quality Logo
Posted on May 18, 2018 by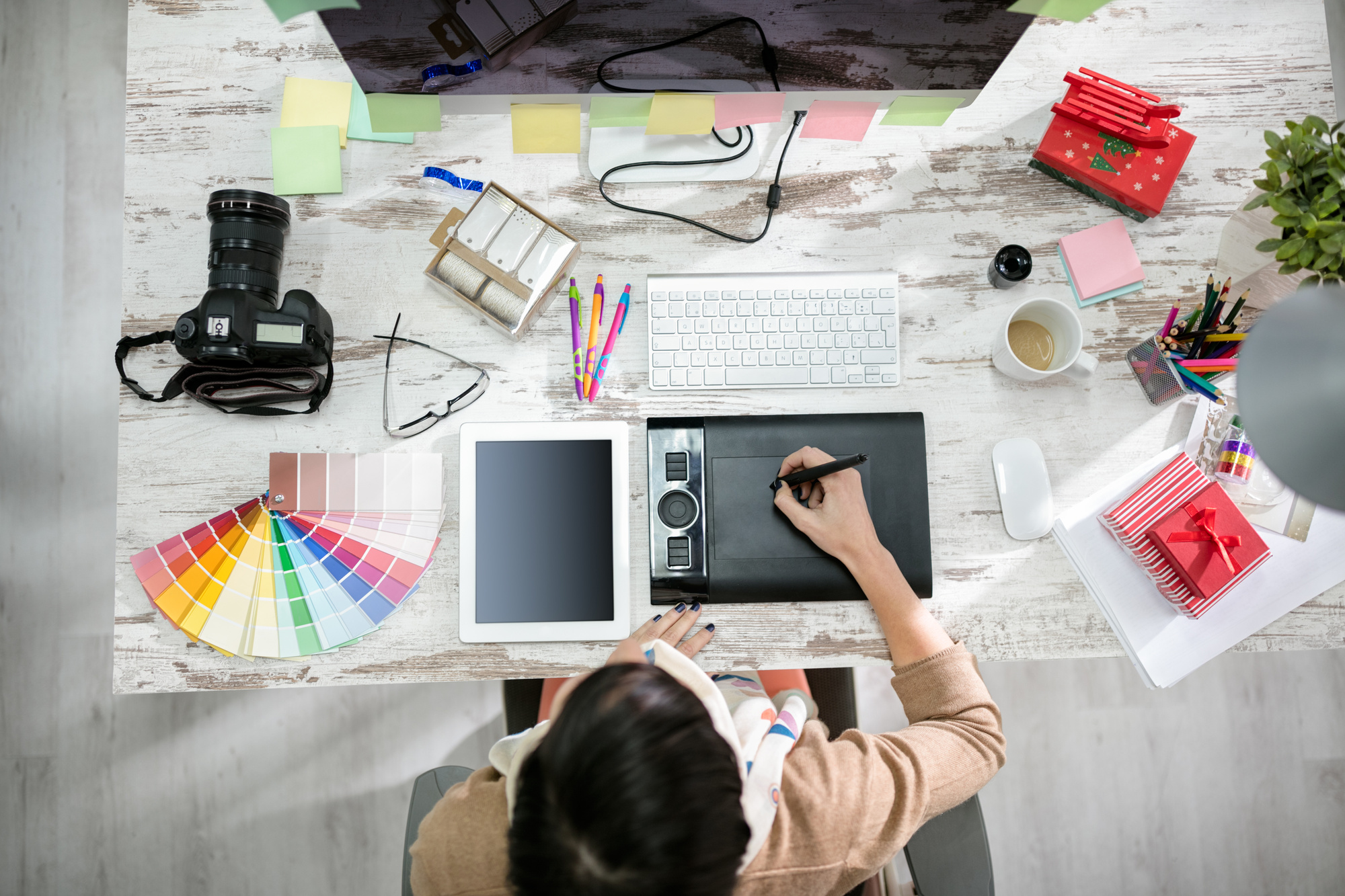 You might think that coming up with a logo that will help cement your brand's voice is easy. Like most people, you probably think that all you need is to select a fancy color, draw a circle or square, type in your brand's name, and call it a day.
You're wrong!
Designing a quality logo that speaks of your company's culture and values is not easy. It's a process with many pitfalls, and one mistake could cost you huge amounts of money and your loyal clients.
But worry not; we have a guide that can help you come up with a unique, memorable logo for your brand.
Here is the guide.
1. Know What Your Brand Stands For
Before you think of the colors, fonts, and text you'll use to create a logo, think about what your business stands for.
Ask the flowing questions:
Why did you start the business?
What solutions do you offer?
What makes your business unique?
The answers to these essential questions will help you know what your business stands for. This will make it easy for you to figure out which colors, fonts, and texts will help you come up with a relevant logo.
2. Know Your Target Audience
You should also take some time to learn a few things about your target audience. Make sure you know their gender, age, where they live, their hobbies, income, and why they like your brand.
Knowing these things will help you identify the techniques you'll use to create a logo that your audience will actually like.
3. Simplicity Results in a Quality Logo
Think that coming up with a complicated logo will help you stand out?
Well, think again. The logo you come up with should be simple. How do you tell if a logo is simple or not?
Well, a simple logo should have a clear brand's message. If it takes a college degree to understand the message in your logo, it's too complicated. Change it!
A simple logo should also be easy to remember.
Do people remember the details in your logo? If they can't, there's a problem with its design, and you should do something about it.
A simple logo should be easy to use in all media. Can you use your logo in any media including promotional gifts, signs, web, and embroidery?
If you can't, go back to the drawing board and make it simple.
You can find some examples of bad logo designs here and learn a few things from them.
4. Ensure Your Logo Is Flexible
One of the biggest mistakes people make when coming up with a logo is creating a rigid logo.
Don't make this mistake! You should note that your business is moving forward, and you might introduce new products or services in future.
Your logo should, therefore, be flexible. It should represent your company's future needs, not just the current ones. It should also appeal to different audiences, not just your target audiences.
An effective logo has to be dynamic!
5. Avoid Trends
Yes, following trends can help your company win, but not in the world of logos.
There are numerous articles that say that logo designers should incorporate modern trends in logos. The reasons these articles give are quite compelling, and you may be tempted to incorporate a current trend or two in your logo design.
But don't be misled!
Incorporating trends in your logo design will not make you stand out. It'll only make you look like everyone else. You want to stand out, right?
Be timeless and avoid trends. Avoiding trends does not mean you should not check out the hottest, latest logo trends, no.
Take some time and study the trends. This will help ensure you don't use these trends in your logo design by mistake.
6. Make Use of Online Tools
Need some inspiration when creating your logo?
There thousands of online articles that you can read and find the inspiration you need.
Want to create a logo but don't have the skill or experience?
Well, worry not. LogoMaker can help you create a unique and memorable logo. It's quite effective and easy to use.
7. Avoid Stereotyping Logo Designs
This is another common mistake that even the most experienced, well-trained logo designers make.
Using a common logo design may give you a beautiful logo but it won't help you come up with a recognizable logo. It'll only make you look like everyone else.
Don't fall into this trap!
For instance, if you're planning to come up with a flower delivery company, don't include color red or a flower in your logo. That's a stereotyping logo design.
Be different.
Create a logo that will make people think about your brand even when it does not contain your company's name.
8. Utilize Double Entendre
Double entendre is a fancy technique that helps logo designers make a logo that has two pictures wrapped into one.
If used correctly double entendre comes off as a clever and memorable design option.
You should note that people love mind games. Using double entendre will, therefore, you help capture people attention.
This technique will also make people appreciate your logo even if it's simple.
9. Make Sure Your Logo Tells a Story
Your logo should tell a story.
It could tell a story about your culture, your products, or what you stand for; just ensure the story is interesting and unique to your company. If possible, your logo should have two stories: the obvious one and the hidden one.
You might be thinking, "Why should a logo tell a story?"
And that's a valid question. Stories activate people's minds and make them more attentive. They also improve our retention for information.
Therefore, if your logo tells a story, this will help capture people's attention, making it easy for you to tell them about the solutions you offer.
Also, if you show your audience that there's something more to your logo, they'll view you as an expert.
Simply put, ensuring that your logo tells a story will help introduce your brand to the world in a unique and memorable way.
10. Pay Attention to the Color in Your Logo
The colors in your logo should have a meaning and should tell us more about your company and the solution you offer.
Take some time to find out which colors match your brands' needs.
If you don't know, colors have meanings. For instance, if you use bright colors in your logo, this will portray your business as future ready.
Make sure the colors you use in your logo represent what your brand really stands for.
If you use colors correctly, you'll be able to create a great first impression. People will also want to be associated with your brand.
11. If You Don't Know How to Use Clip Art, Avoid It
Clipart can help make a logo more clear and recognizable.
But let's face; not so many people know how to use clip art. This explains why most clip art logos are painful to look at.
If you don't have the skills to use clip art, don't use it. If you use it, your logo will look cheap and careless, not to mention that it'll be difficult to use it in different settings.
12. Ensure Your Logo Speaks of Professionalism
Don't compromise your brand's work ethic by coming up with an unprofessional logo.
Your brand image can have more influence on your success than you may think. Ensure it speaks of professionalism.
How can you do this?
Well, just follow the following rules:
Make sure you create a logo that looks attractive.
Ensure your logo is sending the right message.
Think about the reputation of your brand when coming up with your logo.
If you follow these three rules, you'll be able to come up with a logo that shows your company is made up of professionals.
13. Choose Your Typeface Carefully
There are many typefaces that you can use in your logo. You should, however, note that some typefaces are more efficient than others.
Serif and sans-serif are the most common typefaces used by logo designers.
If you're not an experienced designer, you should stick to these typefaces. However, if you are an experienced designer, you can incorporate decorative and script typefaces in your logo. They'll help make your logo more unique.
The problem with most decorative and script typefaces is that they can be hard to read when put on smaller screens.
14. Be creative
Creating a nice logo is not all about using the right font, avoiding trends, and embracing professionalism. It's about creating a logo out-of-the-box.
Think creatively. Being creative will help you create a logo that communicates with your target audience at a personal level.
It will help you create something that has never been seen before, making it easy for you to stand out.
15. Don't Expect Instant Success
Top brands like Apple, Nike and Coca-Cola have iconic logos. These companies started small before they became the brands they are today.
Even if you have designed your logo using the most beautiful fonts, and text, your logo won't become an instant success.
Be patient and don't rush to make changes just because your logo hasn't attracted the attention you expected.
Wrap-up
As we mentioned earlier, designing a quality logo is not easy. It may be confusing, difficult, or seem impossible.
However, if you follow tips discussed above, you can be sure that the process will easy enjoyable and successful.
You can visit our blog for more informative articles on this and other interesting topics.
---
No Comments