Back to homepage
Elegant Business Card Design Tips
Posted on February 15, 2018 by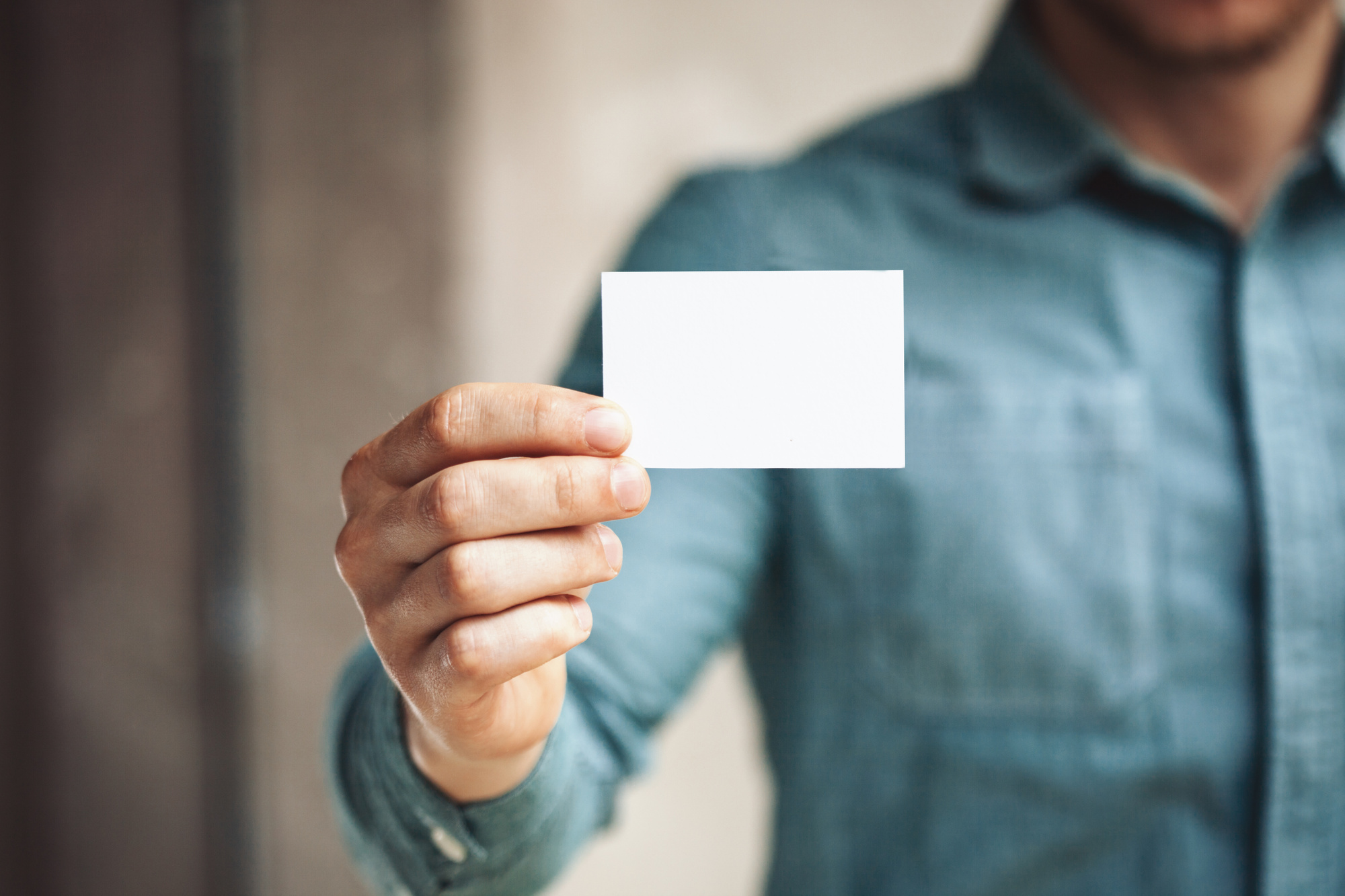 Networking is the bread and butter of connecting with potential new clients; it's one of the quickest and most effective ways to build up your contacts. Having a quality business card and giving it out to your new contacts can be the perfect finishing touch, but most people don't know where to start on creating their own business card.
Elegant business card design tips are few and far between online, so we decided to create this article to give you all the information you need in one place to get started on your own business card design.
This article will take you through all of the steps from:
Keeping your business card minimal
How to leverage social
Building your brand into your business card
And much more
Tie back your hair, and hold onto your hat, let's get started!
Why Are These Elegant Business Card Design Tips Important?
First impressions last, and in-person meetings can be a really powerful way to get new clients or new contacts for your industry. Research also shows that closing rates for in-person meetings are 40%, with that in mind having a great business card design can really help to improve your odds of closing.
Our Top 7 Elegant Business Card Design Tips
To help you get the best elegant business card design tips, we've broken down our seven favorite ways to get the most out of your business card designs.
1. Keeping It Minimal
Stripped back business cards are the big trend for 2018. Don't tempt yourself to bombard your card with a mountain of information but the problem with that, as with anything, is information overload.
You want to be thinking about your brand message and what you want to say. Remember because you'll have given the person the business card in person, they will already know what you're about and what you do, you don't need to repeat that here.
Think of your business card as a call-to-action; you want the person you're giving the card, to take action.
What action do you want them to take?
It may depend on what kind of person you're giving the card to which leads us to our second elegant business card design tips.
2. Have Different Designs for Different People
There are some incredible designs of business cards out their online which can give you some real ideas on what to design your card like. It's important to remember though that you may need a different message depending on the person you are giving the business card too.
Our second elegant business card design tips focus on designing different cards for different reasons. You may want to build a design for customers that showcases your brand's identity and gets them to your website.
A design for a supplier or marketing firm may be more business-like in design, and you can focus on what value you can provide them.
Think about what value your business card can present for the person you'll give it out too.
3. Using Social Media Effectively
Everybody these days is on every social media platform, right?
Do you want the person receiving your business card to hit you up on all social platforms or just one?
What would be the most relevant platform for the type of person you'll be giving this business card to. Try to remember that one size doesn't necessarily fit all.
You may want to showcase your brand identity to customers through a visual social platform like Pinterest or Instagram, whereas a someone you'd like to work with may be better of connecting through Linked-in a more professional network where they can easily see your past achievements and work background.
4. Reinforcing Your Brand
When you're handing out your business card, you want it to tie in with your brand, so that people can get a snapshot of what your business is about. If this theme then carries onto your website and social platforms, it begins to build a familiarity.
Here are some awesome examples of logo designs for a financial institute for some inspiration of amazing branding. You can even go as far to make your logo or brand image the full size of the business card, with your details on the flip side.
5. Decide on What Concept to Follow
Turning your brand values into a business card is an incredible way to build familiarity with the person you're giving your business card too. Deciding on what concept to follow is a good idea when considering which elegant business card design tips to follow.
By thinking about the customer you're trying to impress, you can build a story around what you want them to follow.
6. Decide on Your Specs
Remember you can't get started without knowing where to start logistically. It's a good idea to get an idea of what specification to follow so you know what's important to you and your budget.
The size of your business card can vary, and the most common business cards are 84mm by 55mm. You can go bigger, but if you do, the person you give the card to is less likely to keep it and won't fit into a wallet as easily, the go-to place for most business cards.
You can go smaller to make your card stand out, but remember a non-traditional size is going to cost you more money. Tank Prints have a site that lets you design the cards the way you want them and are a great example of how to design your specification differently.
It's also good to think about the orientation, will your design be landscape or portrait. Portrait designs have been up and coming in the last few years and can make your card design stand out, but it can be harder to read in a cardholder.
7. Think About the Material
Most business cards are paper, but you do have other options. This is one of our favorite elegant business card design tips as it can really make you stand out from the crowd.
You can choose your card to be plastic, wood, metal, and slate. If you go with paper, you'll need to think about thickness, coating, color and weight. All of these can affect the price.
Time to Use Our Seven Best Elegant Business Card Design Tips
Now you've got the info; it's time to take charge! Stand out from the crowd and make a big impact on your audience. For more tips on how to get the most out of your business card designs, head over to our blog.
---
No Comments